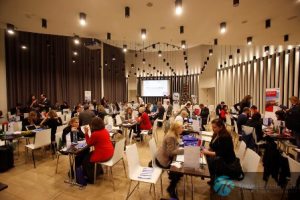 Lviv Convention Bureau took part in Meet the Bidder/Grand Edition – business event that gathers suppliers and buyers of tourism services.
It took place on the 2nd of December in Poland's capital Warsaw where LCB presented Lviv's potential to Polish buyers.
The event consisted of the general 5-minute presentations by some suppliers and personal B2B meetings of suppliers with buyers, 15 of which were guaranteed by the organizers. Each supplier had its own table where they could present their destination and conduct meetings. The meetings lasted for up to 15 minutes each.
Meet the Bidder happens several times a year. Its year cycle ends up with the Grand Edition, that, in fact LCB's team took part in.
There were a number of destinations represented at the event, namely Turkey, UAE, Georgia, Maldives, Slovenia, Poland, Madrid Convention Bureau, Berlin Convention Bureau, Portugal, and of course Ukraine represented by Lviv Convention Bureau.
Events like this are very productive, although the participation price is high J However, we recommend Meet the Bidder, if you are looking for new business opportunities and partnerships.