The city was founded by the king Danylo Halytskyi in the 13th century.
In 1998 Lviv's historical center (120 ha) was included into the UNESCO World Heritage list.  In 2009 the city was named Ukraine's cultural capital. The majority of Ukraine's historical and architectural monuments 2,500 in total are in Lviv. There are about 60 museums of Renaissance, Baroque and Classicism styles in Lviv.
Lviv has a long history of being an attractive MICE destination in Europe.
The Galician National Exhibition of 1894 was one of the most well attended business events in  the history of Lviv. Businessmen from all over Europe attended the 139 day event and 1,146,329 people visited the show. The exhibit laid the foundation for technological innovations and development of modern infrastructure in Lviv.
Local Self-Governance Forum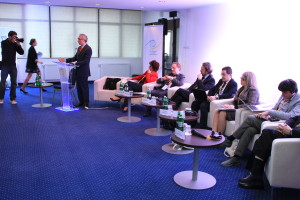 For two years Lviv is hosting All-Ukrainian Forum of local self-governance. The main goal of 2014 event was to initiate specific changes directed at empowerment of local communities along with creating mechanisms of successful local development. More than 150 guests from Ukraine and abroad took part in the discussions – Ukrainian ministers, representatives of the European embassies, city mayors, delegates from international organizations, Ukrainian and foreign experts in the field of local government.
Lviv Publishers' Forum
For 20 years Lviv International Publishers' Forum is taking place in the city. Lviv International Publishers' Forum is the largest series of fair, intellectual and cultural events in Ukraine. This international event brings together writers, translators, public figures, journalists and opinion-leaders from 25 countries of the world. One of the most prestigious events for specialists at the Lviv International Publishers' Forum is the Publishing Business Forum, which is the most interesting event for business tourism.
Win with the Lion
The Tourism Forum "Win with the Lion" is an annual tourism dedicated event held in Lviv, a historic tourist destination in the western part of Ukraine. Each year, the Forum attracts travel industry leaders, decisionmakers, C-level executives and young aspiring tourism professionals from all over Ukraine and other countries under one roof to present dynamic content, covering a variety of the hottest topics for the travel marketplace, discover the next market-changing trends, seek fresh ideas, establish new partnerships and unite stakeholders to champion the cause of tourism development.