Quick facts about Lviv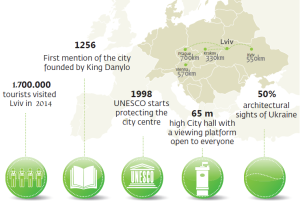 Official language: Ukrainian
Population:  757,500 people
Area: 182.01 km2
Time zone: Eastern European Summer Time, GMT +2
Geographical position: Located in the western part of Ukraine, 70 km from the EU border and 160 km from the eastern Carpathian Mountains.
Climate: Lviv has a temperate Continental climate with soft winters, wet springs, mild summers, warm and dry autumns. The average temperatures are –3.4°C in winter, +17.5 °C in summer and +11 °C in the nearby mountain regions.
The first record of Lviv as a city was made in chronicles in 1256.
Founder of Lviv: King Danylo Halytskyi, who named the city in honor of his son Lev.
The cultural capital of Ukraine. The historic city center (120 ha) is on the UNESCO World Heritage List. The city has unique architecture preserved throughout the centuries.
Currency: hryvnia ₴ (UAH). You may exchange currency at hotels, banks, and currency exchange kiosks. Credit cards are accepted in most places. ATM machines are widely available.
Visa: citizens of the EU, USA, UK, Argentina, Bosnia & Herzegovina, Brazil, Brunei, Darussalam, Canada, Japan, Korea, Switzerland, Liechtenstein, Andorra, Vatican, Monaco, Norway, San Marino, Mongolia, Serbia, Montenegro, Georgia, Hong Kong, Israel, Paraguay, Macedonia, Panama, Turkey and the countries of the Commonwealth of Independent States (except Turkmenistan) don't need visa to come to Ukraine. Please check here to see if you require a visa to enter Ukraine.
Telephone calls:
Country code is +380

Lviv: 32
Emergency Phone Numbers:
Fire fighters

101

Police

102

Ambulance

103
Internet: All hotels offer Internet service to guests. Many cafes and casual restaurants offer complimentary Wi-Fi.
Shopping malls and stores are opened mostly from 10 till 22h every day. Most banks and post offices are opened from 9 till 17h during weekdays.
Food & drink:
The tap water is not recommended to drink. It's better to buy bottled water or ask for a cup of water at the restaurant or cafe.

A majority of hotels and restaurants offer Ukrainian national and European cuisine. Asian food is also available. Many restaurants have vegetarian options.