Quick facts about Lviv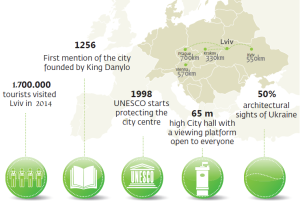 Geographical position. Lviv is situated in the western part of Ukraine just 70 km from the EU border and 160 km from the eastern Carpathian Mountains.
Population — 757,500 people. It is the 7th largest Ukrainian city in terms of population.
Area — 182.01 km2.
The first record of Lviv as a city was made in chronicles in 1256.
Founder of Lviv — King Danylo Halytskyi, who named the city in honor of his son Lev.
The cultural capital of Ukraine. The historic city center (120 ha) is on the UNESCO World Heritage List. The city has unique architecture preserved throughout the centuries.
Lviv's climate is humid continental with soft winters, wet springs, mild summers, warm and dry autumns. The average temperatures are –3.4°C in winter, +17.5 °C in summer and +11 °C in the nearby mountain regions.