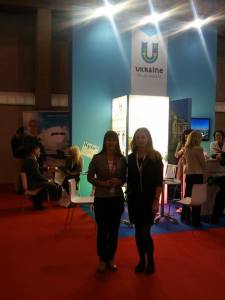 On 17-19 of November Lviv Convention Bureau has represented Lviv at the major international MICE-event – IBTM-2015 in Barcelona, Spain as a member of the united Ukrainian stand together with Kyiv Convention & Visitors Bureau.
This year Ukraine's stand was recognized by an award for the most effective use of PR. Ukraine appeared on the pages of IBTM world show daily (a daily show newspaper). On the third day of the show, it was visited by Ivan Liptuga (head of tourism and resorts department in Ukraine's Ministry of Economy), who lead a press-conference about MICE in Ukraine.
The stand was visited by the meeting planners from all around the world, however, the majority of those where from Poland, Russia, China and local Ukrainians, who stopped by to pass their greetings to their motherland.
All in all, the show gathered 15,000 international industry professionals and 3,000 exhibitors representing 300 countries.