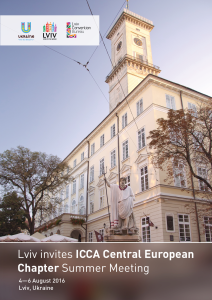 We are glad to announce, that Lviv Convention Bureau has applied to host ICCA Central European Chapter Summer Meeting on 4-6 August, 2016.
ICCA is the International Congress and Convention Association – the global expert in international association meetings. Hosting the ICCA Central European Chapter Summer Meeting in Lviv will contribute significantly to the development of the MICE industry in Lviv. Our appeal is supported by the Mayor of Lviv as well as by Kyiv Convention & Visitors Bureau.
Why Lviv?
Lviv is a cultural capital of Ukraine, one of the largest and oldest cities of the country. It has a rich history, coming back to the year of 1256, when it was first mentioned. Lviv has a rich architecture in an array of styles – Renaissance, Baroque and Classicism; it has numerous museums, restaurants and coffee-shops as well as beautiful spacious parks;
Lviv is one of the least expensive major cities in the world and offers European level of services for considerably lower prices;
Lviv has a developed infrastructure, with a new-built Danylo Halytskyi International Airport, which is just 7 km from the city center. The airport hosts regular flight to Kyiv, Moscow, Warsaw, Munich, Vienna and Istanbul.
Also, Lviv Main Railway Station provides international connection to Slovakia, Hungary, Poland and Russia as well as a high-speed train to Kyiv.
The bidding document includes the description of Lviv infrastructure, its charm and the venue offered. In addition, the overview of current business, economic and political situation as well as current meeting industry situation and plans for future development in Lviv are provided. Preliminary program and budget are also offered for the review of ICCA Committee.
Lviv is growing as a tourism center in Ukraine. It has a great potential for future development. Besides, it is the only Ukrainian city represented in ICCA.
The program of the ICCA Central European Chapter Summer Meeting, despite the formal meetings and sessions, will include various tours, workshops and excursions to special restaurants and museums.
Our team is looking forward to the Election Committee's decision!