Lviv Convention Bureau presents Lviv's conference industry at the specialized exhibition in Vilnius – CONVENE.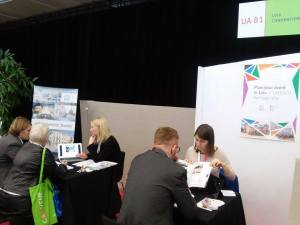 CONVENE – one of the key events of the conference industry that is organized by Vilnius Convention Bureau.
A fully hosted buyer programme accommodated 160+ qualified buyers from whole Europe. Up to 100 exhibitors including convention bureaux, hotels, conference centres, special venues, DMCs, PCOs, specialist suppliers from Lithuania Latvia, Estonia, Poland, Russia Finland, Sweden, Denmark, Ukraine, Belarus, Slovakia were showcasing their meeting products and services.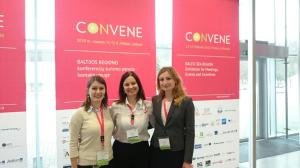 During 2 days of the exhibition the team of Lviv Convention Bureau conducted 48 meetings with buyers from 15 different countries, being the only representatives from Ukraine. Apart from meetings at Convene, Bureau's team met with Ukraine's Ambassador in Lithuania Valeriy Zhovtenko and Lithuania's Department of Tourism. LCB has done a site inspection of LitExpo – the biggest ExpoCenter of Lithuania.