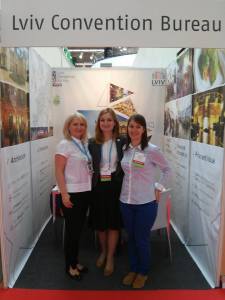 On 19-21 of May Lviv Convention Bureau has represented Lviv at the major MICE-event – IMEX-2015 in Frankfurt-am-Main, Germany. It was the second time that Lviv had participated in the tradeshow.
During the 3 hectic days LCB representatives conducted about 30 meetings with the potential buyers. The greatest interest in holding meetings and corporate events in Lviv was expressed by the meeting planners from Turkey, Azerbaijan, Poland and Germany. Since all big international events are planned long before their start, the talks were about meetings planned for 2017 and the following years.
By the way, this year Lviv was the only Ukrainian city that participated in the exhibition. It was visited by 9,000 people and gathered 3,500 exhibitors from 150 countries. Besides, there were education sessions, Young Leadership Forum and Politician's Forum happening at the show.
Next year IMEX-2016 will be held on April 19-21!
To watch a short video about exhibition days at IMEX-2015 click  here.