The team of Lviv Convention Bureau continues to tell international partners about what is happening in Ukraine, in Lviv; explain why it is necessary to stop doing business with russian companies, and most importantly – how to help Ukraine today. We have launched a series of interviews "Industry talks during the war" with international and Ukrainian experts of the exhibition industry. The initiative is timed to the Global Exhibitions Day. New interview with Olga Manko – Director of Arena Lviv Stadium.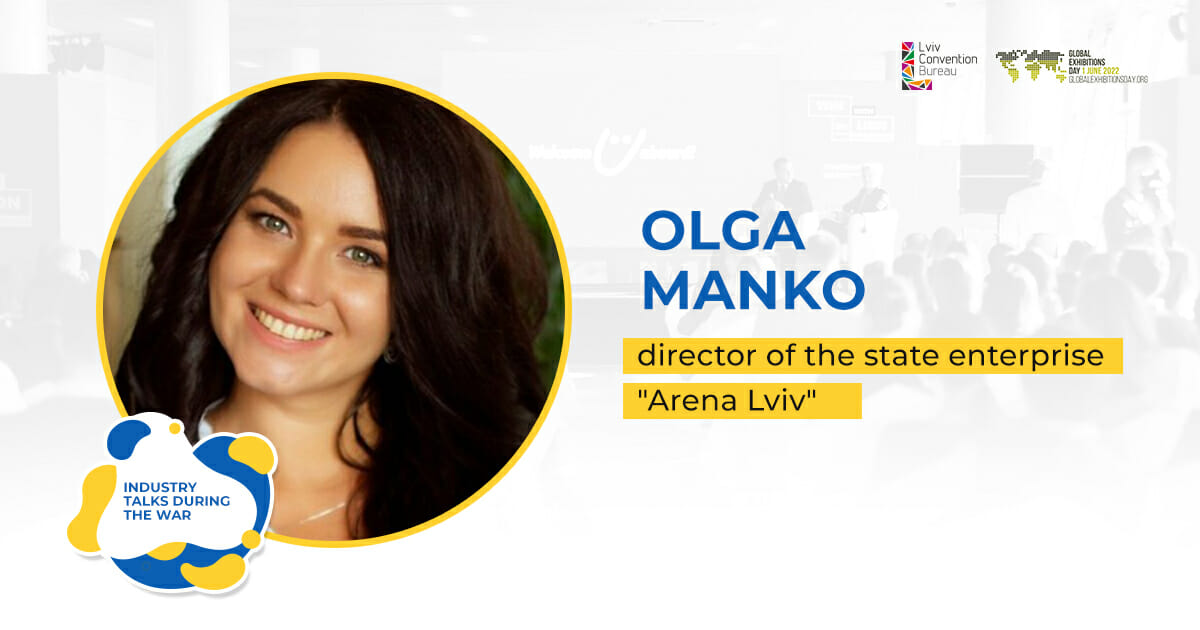 Dear Olya, welcome. Thank you for joining us. We are always pleased to communicate with experts of our industry. The situation in Ukraine is quite complicated now. It is interesting to hear what is happening now at the Arena Lviv Stadium. This is one of the largest locations in Lviv, where there were a lot of various conferences, business events before the war. The location has always served as the largest space where 1000-1200 people could be accommodated at various kinds of business events. Now, of course, the format of meetings is not the same. "The Lions Arena has reformatted itself into a humanitarian tai volunteer hub for internally displaced persons. The work has changed dramatically. It is interesting to hear what is happening in Arena Lviv Stadium, what your plans are after the war, after our victory, how the industry, business events, conference events will be restored. Today we will be very happy to hear exactly your opinion.

Since the first days of the war, Arena Lviv Stadium has become such a coordination center for displaced persons from the combat zone. The huge stadium and all the infrastructure around it, which gathered football club fans, conference delegates, participants in international exhibitions, reformatted its work to help those who are now fleeing the war. The stadium area hosts internally displaced persons. There are different waves. At the beginning of the war, there were more internally displaced persons, and now there are slightly fewer. The situation has changed. Please tell us how Arena Lviv Stadium currently lives, what is on the territory of the stadium, how the stadium is used, how other infrastructure is used. Maybe you know how the work of a volunteer humanitarian center (on the territory of the stadium) looks like. 
February has become very difficult for all Ukrainians. On February 24, it changed our life to "before" and "after", and thus Arena Lviv Stadium was forced, like almost all platforms for organizing events, to cancel absolutely all events. When it was decided that we would have a coordination headquarters, Arena Lviv was initially used for some needs. Then we started scaling up. When there was a crazy stream of people, and nobody knew where to place them, they were brought to the Arena Lviv. Thus, a coordination center for internally displaced persons began to operate in Arena Lviv. There were a lot of volunteers, but initially – about 20 people. There were buses with people coming from the railway station. They were brought in, or they themselves found out that there was such a center. Volunteers recorded what people wanted. If people wanted to leave the country, then the volunteers gathered groups of 20-30 people, depending on the capacity of the city buses, and transport them. If people did not want to leave Lviv region, the volunteers were looking for a place to live for these people. Catering was also initially available at Arena Lviv. A dining room and a people support center were organized. There was humanitarian aid, essentials. They had to be folded, sorted. Humanitarian headquarters began to work, which imported, dispensed, transported things that were necessary.  All this was done by the Lviv Regional Military Administration. Basically, the Lviv Regional Military Administration handled data where there is a lack of humanitarian assistance and where there is everything ok with this. There were a lot of volunteers working. Over the entire period, more than 25000 people passed through Arena Lviv. These are those who have been registered, sent to points of residence or abroad. 
Then the scale of the war began to unfold. Football club "Shakhtar" showed a desire to organize a shelter, as they had already seen the war in Donetsk in 2014. They offered their humanitarian aid. It was their social project. Despite the fact that fewer people arrive (the reason for this are more concerted coordination movements), Arena Lviv is constantly inhabited by approximately 200 people. Of course, in order to organize everything, to involve the entire territory, the team was also involved. Arena Lviv employees helped people to get acquainted for the first time, when there was a lack of things, a lack of hands and a lack of help. In addition to the protection of Arena Lviv, the Security Service of Ukraine, some representatives of law enforcement agencies and volunteers are constantly on the territory of Arena Lviv. 
I want to say a few more things. We are talking now, when three months have passed and work has stabilized. When the war broke out, there were a lot of people who wanted to help. For example, Arena Catering, a company that once served football matches, conferences, catered for events, organized assistance with food delivery on 24/7 (round-the-clock). 
I see. Thank you very much for this detailed answer. We are able to imagine how Arena Lviv lives now. You have already mentioned the football club "Shakhtar". Did other football clubs, other representatives of the football industry join and help shelter or other humanitarian initiatives? There may be other examples.
I am convinced that both the football club "Rukh" and the football club "Lviv" help, conduct volunteer activities in Lviv. But as for the Arena Lviv Stadium, we cooperate with the football club "Shakhtar". They're placing their shelter with us. We also cooperate with the Lviv Regional Military Administration, with volunteers. We have several humanitarian headquarters. I am fully convinced that these clubs also conduct their volunteer activities. To do this, there are all the resources in their territories. These clubs only played  football matches with us, but did not have a permanent stay with us. Accordingly, such cooperation did not occur in time of war.
You have already said that the situation has stabilized a little. It's not that big stream of people anymore. You can exhale a little. What are the biggest challenges on your territory, at all infrastructure facilities of Arena Lviv?
If your question concerns the purposeful work of Arena Lviv, today the team is practically not working. We have no main areas of activity. We sent people on forced vacations, reduced working days. 
Arena Lviv is an enterprise that is not financed from the state budget. Arena Lviv should have economic activity in order to pay a salary to employees. Accordingly, no such activity takes place. As for, for example, contracts concluded in previous years, now we contact the organizers of the events, whether they contact us, and in the text of the contract we indicate that everything is postponed to the next year, or even a year later. There is no certainty that these agreements that have been concluded, or the dates of the concerts that have been planned, are being implemented. We keep in touch with our partners at all times. As for the restoration of the industry, it is possible only after the end of the war. Today, I believe that all the resources of each Ukrainian should be directed to victory, to support our soldiers, so that there is a peaceful sky over Ukraine.
I understand that all partners who planned their events responded adequately to the situation. We do not know how many national and international events you had planned, but we understand that both Ukrainian and international partners had no claims of default. We often hear from our partners that everyone supports Ukraine very much. There were also those who had to cancel the events, because the option of postponing to other years was not suitable. What was your case about the conferences and business events that were going to take place at Arena Lviv? For example, the local events – Lviv Media Forum, Event Industry Forum. How did their organizers react?
In the first three weeks, no one dealt with contracts at all. Everyone worked for the war. No one understood what would happen next, we did not understand the subject of the conversation. Something was agreed. But it was only at the level of conversations. Today, everyone understands that no conferences, no concerts are necessary when there is a war in the country. For the state enterprise "Arena Lviv Stadium" there were difficult life circumstances.
The Stadium was already going through a difficult time, when we did not have a salary for eight months. It was during the quarantine period. Today is a war. But if we do talk about the activities of the enterprise, then there is a moral aspect. Its essence is that it is incorrect to talk today about the problems of the enterprise itself, about the lack of work. This is not commensurate with the problems of people who do not have a place to live, fleeing from the war zone.
We're doing everything we can to stay afloat. Today, the partners who stayed with Arena Lviv continue to work with us. But in fact we are now in a precarious position. This applies to the entire team and the entire  state of the enterprise.  
We are now communicating with partners. They say that small business events, which concern medicine, volunteer activities, humanitarian works, which concern business events in terms of Ukraine's recovery, are gradually restored. Organizers are looking for locations in Lviv that have bomb shelters, because they want to meet live. At least 20-30 people, small groups. It is important for them to stay in touch, to have contact, to stay in the business field. Have you received any requests for business events in your territory? You have a lot of different conference halls. Are these conference halls available now? Can they be used?
Of course, we can use some locations for business events, in particular for small events of 20-30 people.  But Arena Lviv has always been interesting to those organizers who had events for more than 1000 people. We have large conference halls, large areas to stay. You said correctly that those organizers who host events for 20-30 people are looking for a hotel-type location. It's just more convenient for them than taking a larger quadrature. As for those conference areas, for example, the restaurant where we have events, today there are 250 beds. Today, there are people living there.  As for the other halls, they are free. 
I see. The partners talked about the Сongress Сenter in Prague. At the beginning of the war, in March-April, the Сongress Сenter received refugees from Ukraine. The Сongress Сenter was reformatted as a shelter and a humanitarian headquarters allocating aid, providing food.  At the same time, conferences and congresses were held in other halls. Combining shelter and congress center was a challenge for their team. But management notes that all event organizers have been understanding. The Congress Center was able to accommodate a large number of people.
As for Arena Lviv employees or the opportunity to organize events, everything is possible. Unfortunately, we have not yet been approached with such proposals. 
Let us hope that the situation will change. How do you see the recovery of Ukraine and the recovery of the industry? There are a lot of people talking about this right now. Everyone wants to think about the future. We understand that the situation is not the best, we do not know when the war will end. But we understand that the country's economy must still be in a normal state to support our guys. We have to work. We must have the plan for the post-war reconstruction of Ukraine.

Communicating with our international partners, many of them say that the demand for Ukraine will be postponed, there will be what we call "solidarity tourism". The partners note that out of a sense of solidarity, ordinary and business tourists want to come to Ukraine. The tourists will want to look at the territories affected by the war: Kyiv region, Chernihiv region, eastern Ukraine, the south of Ukraine. The first stop on their way may be Lviv, which is closest to the European border. So we're already talking about how we're going to meet these people, we're talking about a strategy for restoring conference events, a communication strategy. We communicate with partners on how to communicate correctly, so that conferences and congresses come to us after the victory. For example, we talk to international associations that organize large congresses for 1000 people. For them your location in terms of capacity would be very suitable. How do you see the recovery of our conference industry after the war, particularly in the context of your facility?
Firstly, I would really like to see the sports industry – our main area of activity – resume. The sports front for our country is a very important thing. A great tribute today to our athletes who choose different prize-winning places. We would very much like to see sports competitions resumed, including football matches. As for concert activities, in my personal opinion, it seems inappropriate. I have a bad idea that at a time when people are dying, there are some entertainment events going on somewhere. Frankly speaking, I am very skeptical about this from the point of view of a citizen of Ukraine. I probably wouldn't go. 
As a normal citizen of Ukraine, I am under constant stress. My life depends on the news. It is not customary for me to think about entertainment activities. As for the post-win events, I have a huge belief that many world stars will consider it an honor to come to Ukraine and speak to Ukrainians.  
I sincerely believe that after Ukraine wins, there will be a lot of artists interested in Ukraine. The concert industry will be at a very high level. It is also worth noting that during the war, a lot of Ukrainian artists proved themselves. A lot of new and nice songs. I think that even our artists will be able to assemble stadiums, those who, for example, used to perform at concert venues.
What about conferences and exhibitions? Let's go back to the conference industry. How fast do you think conferences and exhibitions will be able to return to Lviv, return to Ukraine? How will Arena Lviv work in this direction?
You know, we'll always be open to requests for conferences and business events, especially if there's a request from society. We are always open. It is difficult for me today to assess this request, to understand how necessary it will be to hold such events. As for international conferences, it will be good if they are held in Lviv. It depends on the Western partners whether they are ready to come here. One thing is personal visits, and quite another is the organization of a huge forum.
We all live in the same information field. It is difficult to realize that we have two parallel realities. Today it is unclear when one of them will end. Negative news for the fifth month lied to us from smartphones, from TV. How do you cope with stress? How do you seek the strength and energy to move on, not to give up, to keep everything under control, to continue to live? 
When I hear questions from journalists to other people about how you deal with anger, with stress, it seems to me that I am not coping. I always stress, react angrily towards the russians who have entered the territory of my state. But when we meet at the stadium people who really fled from the rockets, who passed firing points, who drove for 36 hours to Lviv, who saw the missiles fly before their eyes, who miraculously escaped, it seems that they have much more vital energy. It's inspiring. Just the people who come out of there have more strength. They say that we need to fight, do not stop, we need to live on, because we will definitely win. Even Taras Shevchenko said: "Fight – you will win!". We need to believe in our country, we need to donate to the Armed Forces of Ukraine, we need to know that Ukraine is the best.