How many conferences took place in Lviv? How many delegates attended the exhibitions? What applications for conferences have been successful  for the city? How develops Lviv Honorary Ambassadors Program? What conferences received co-financing as a part of Program «Lviv Scientific» in 2019? What famous experts visited Lviv and were speakers at forums? At which international trade shows, exhibitions did  LCB team represent Lviv conference industry?  Andriy Pavliv – direcror of Lviv Convetion Bureau answered all questions during the public report. And we are glad to share information with you. 
It is important to take into account statistical data while analizing conference industry in Lviv. Numbers speak for themselves.
There were 812 conferences in Lviv in 2019:
  423 local conferences;
  236 national conferences;
  153 international conferences.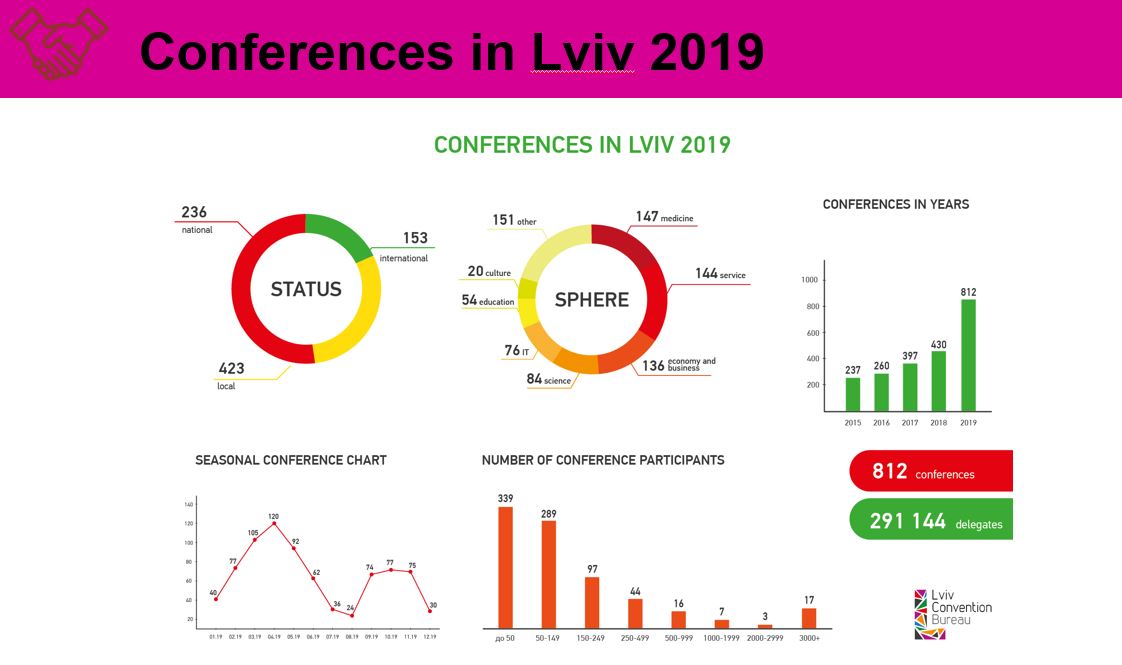 This is virtually twice the number of last year.  It means that Lviv is more often chosen as a venue for conferences, business meetings, trainings. In particular, the number of conferences up to 50 participants increased. Most of the business events took place in such sphere: medicine, economics and services.  The number of scientific, educational and IT conferences increased too. Mostly, conference events were held at hotels. Also at universities, academic institutions. A lot of event planners chose unique locations. Lviv traditionally hosted such conferences as:
BOOK Forum;
IT Arena;
Lviv Media Forum;
HоRеCа Show;
Lviv Eco Forum.
Almost 66 000 visitors participated in specialized exhibitions: Dental Ukraine, Agroport, TourExpo etc.
Lviv Convention Bureau did it best to attract international conferences. 23 applications were submitted. Lviv won 8 bids in 2019. Another 16 are still awaiting confirmation.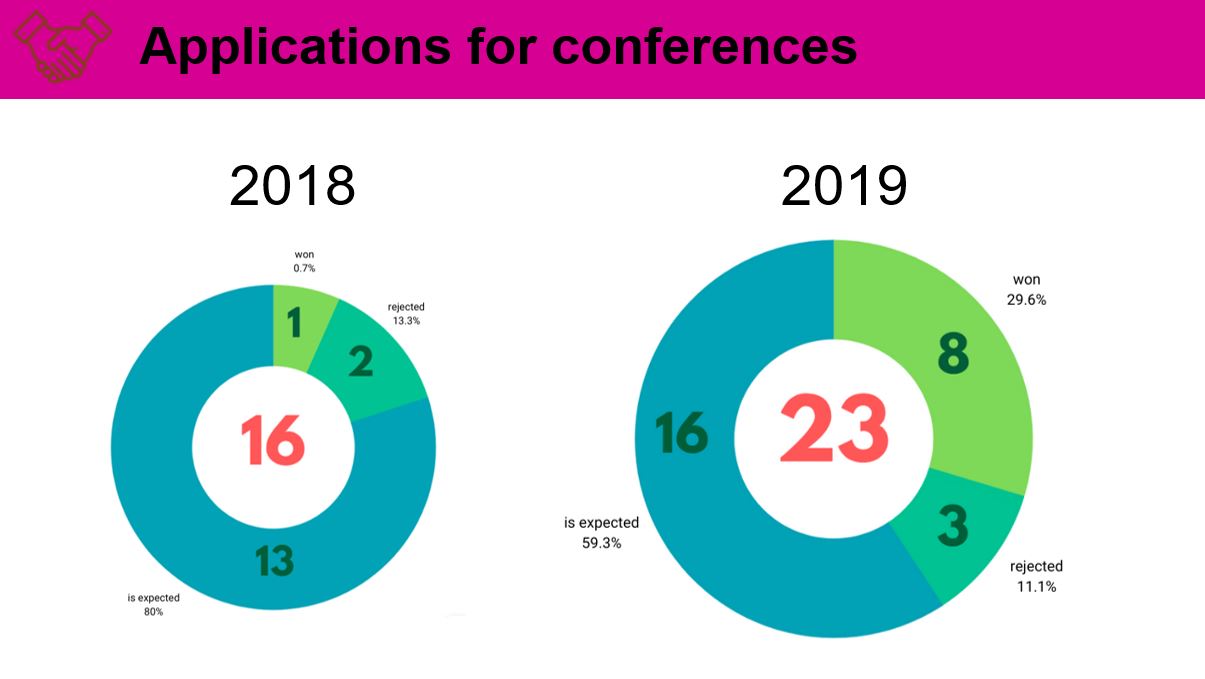 Many representatives of international associations visited Lviv to choose venues for their congresses and forums. During the year 10 FAM- tours took place in Lviv and such guests got to know the city:
Enzo Quattrociocche –  secretary general, European Bank for Reconstruction and Development;
Lloyd Reeve-Johnson – president, European Association of Veterinary Pharmacology and Toxicology;
Karin Butot  – executive director, The Airport Agency France;
Sandeep Mahal  – director, Nottingham UNESCO City of Literature;
Demetrios Fakinos – director, European Design Awards;
Johannes Voelkner – founder, Nomad Cruise.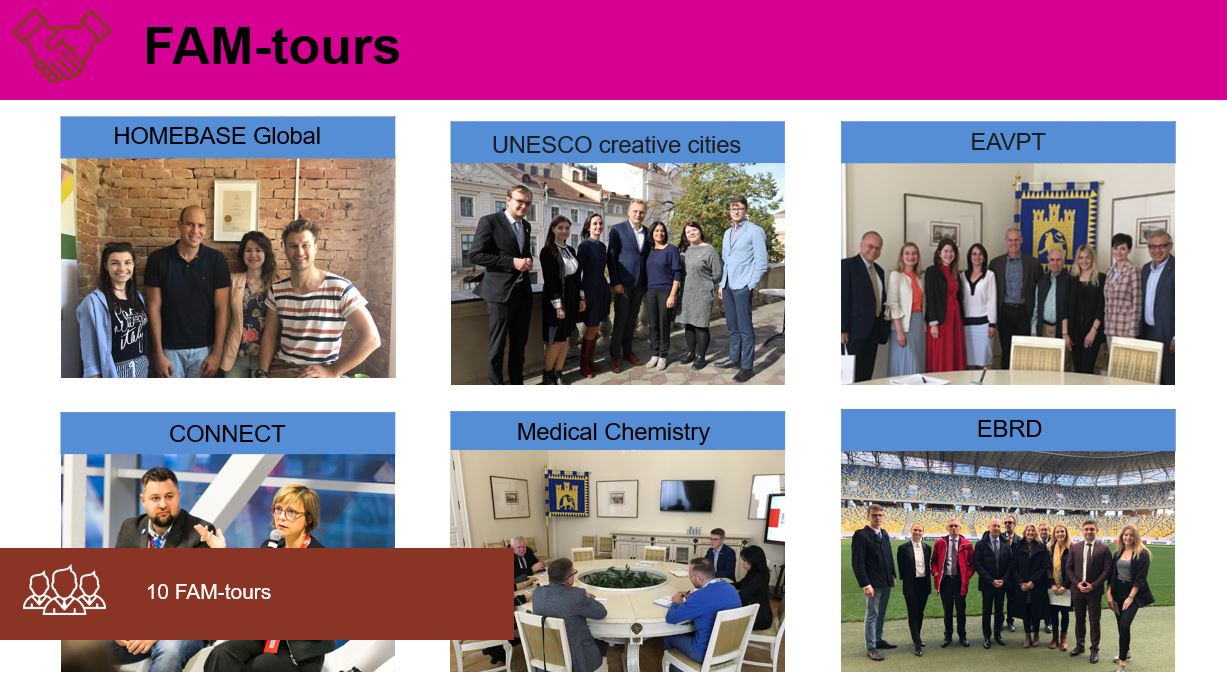 Visits of representatives of international organizations, preparation of applications for holding international conferences were also carried out in cooperation with Lviv Honorary Ambassadors.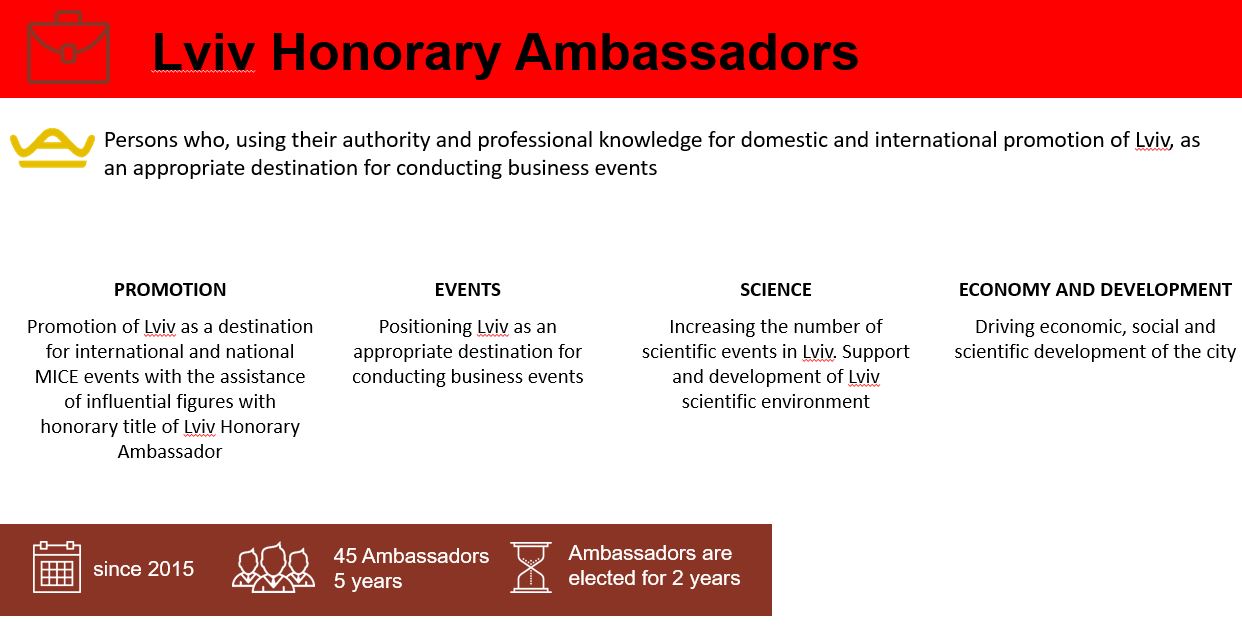 Lviv Honorary Ambassadors Program has been active for 5 years and has 45 experts in its field, who using their authority and professional knowledge for domestic and international promotion of Lviv, as an appropriate destination for conducting business events. There were a lot of meetings with Ambassadors last year. For example, an informal Breakfast with Lviv Honorary Ambassadors was held to introduce Program for media and educational, scientific and business community. Moreover, LCB team organized 5th Gala of Lviv Honorary Ambassadors, where 7 new Ambassadors were elected:
🔸Tetyana Struk – CEO at Linguistic Center;
🔸Oksana Zayachkivska – Head of Physiology Department, Danylo Halytsky Lviv National Medical University;
🔸Andrii Nakonechnyi – Vice-rector for scientific work, Danylo Halytsky Lviv National Medical University;
🔸Bohdan Shumylovych – Сurator of projects, Center for Urban History of East Central Europe;
🔸Kizyma Roman – pediatric oncologist, Surgery department at WesUkr Specialized Pediatric MedCentre;
🔸Stephen Butler – Managing Director, Strategy Council UK;
🔸Peter Mejer-Rasmussen – CEO, Amardico 120 Ukraine and J&L Consulting.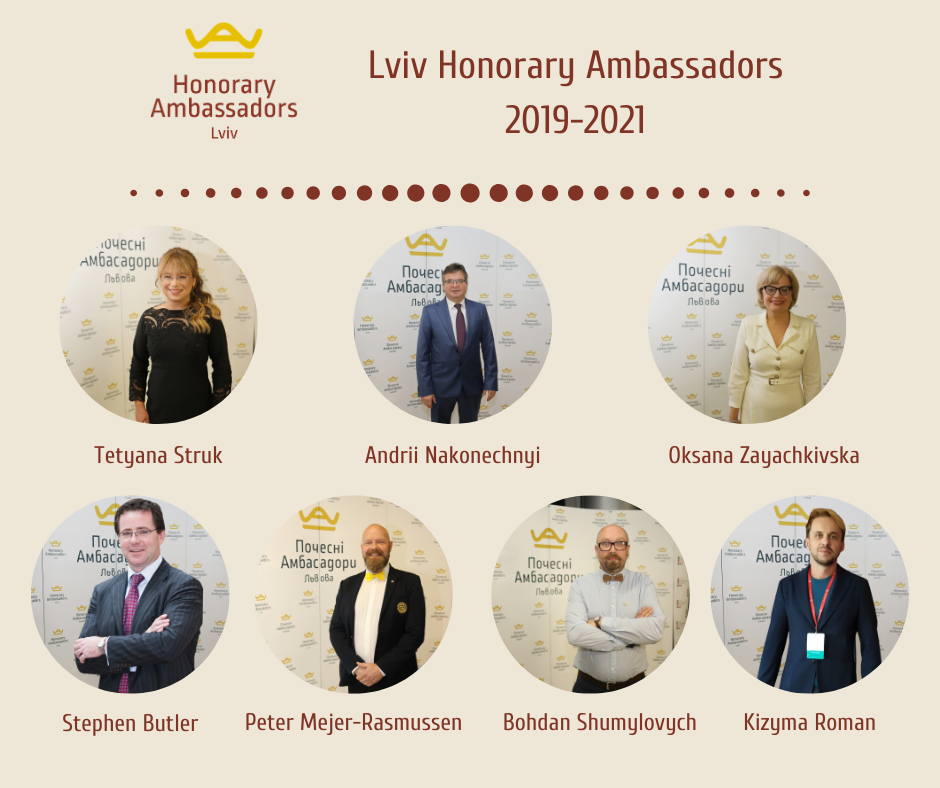 Conference industry experts took part in ceremony:
📍ROB DAVIDSON – Managing Director, MICE Knowledge;
📍CHRISTIAN MUTSCHLECHNER – Director of the restructured Vienna Convention Bureau (1991 – 2019);
📍FRANÇOIS LAFONT – CEO, Luxembourg Convention Bureau;
📍DEMETRIOS FAKINOS – Director, European Design Awards.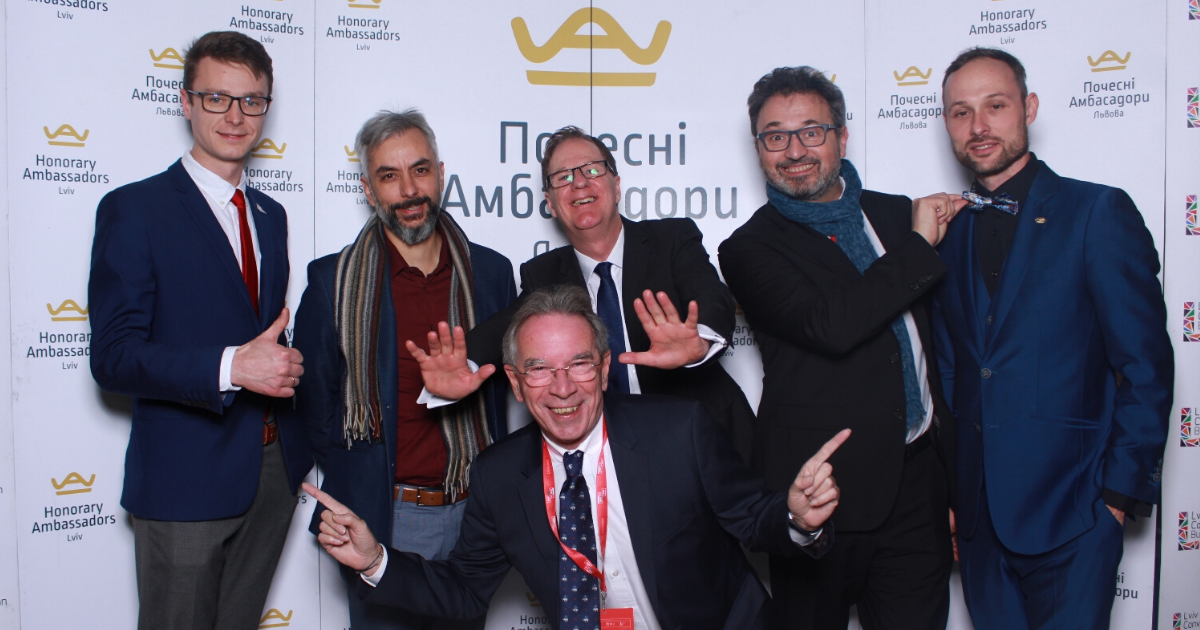 Support and development of scientific community and local conferences was done as a part of Program «Lviv Scientific».  12 conferences were co-funded in the fields of physics, chemistry, biology, computer science, medicine, tourism, law, and culture.
Regarding the second part of the Program «Lviv Scientific» – Lviv City Council's award for talented scientists, it was expanded to a new program – «Lviv System of Researchers», which was first launched in Lviv last year. 176 researchers applied for the Program. 62 scientists became winners and  received scholarships according to the rating from April to December.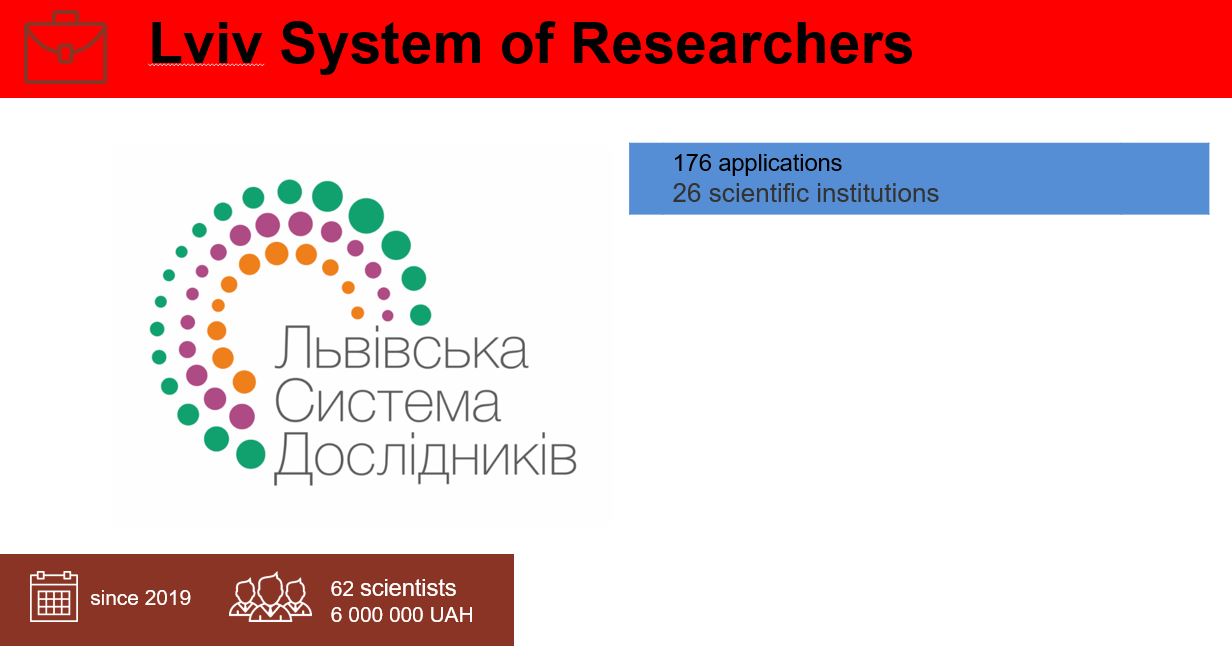 LCB team took part in many educational seminars. For example, Bureau participated in an informative and interactive workshop – Exchange Ideas Accelerator, where shared their experiences, exchanged knowledge, started new contacts and learnt from European Convention Bureaux.
Director of Lviv Convention Bureau Andriy Pavliv took part in ECM Summer School in London. Event was organized by European Cities Marketing.  The aim od event  was to equip professionals with the latest marketing tools and to help them to develop the knowledge and skills required for a successful career in conference, meetings and event management. Moreover, team visited Sweden and took part in Sustainable Cross-Border Destinations-project. The idea of the project (SCBD) was to extend networks for increased cooperation, green growth and improved development of sustainable destinations in the EUSBSR & EU's Eastern Partnership, and in a long term, to broaden and promote knowledge about sustainable tourism.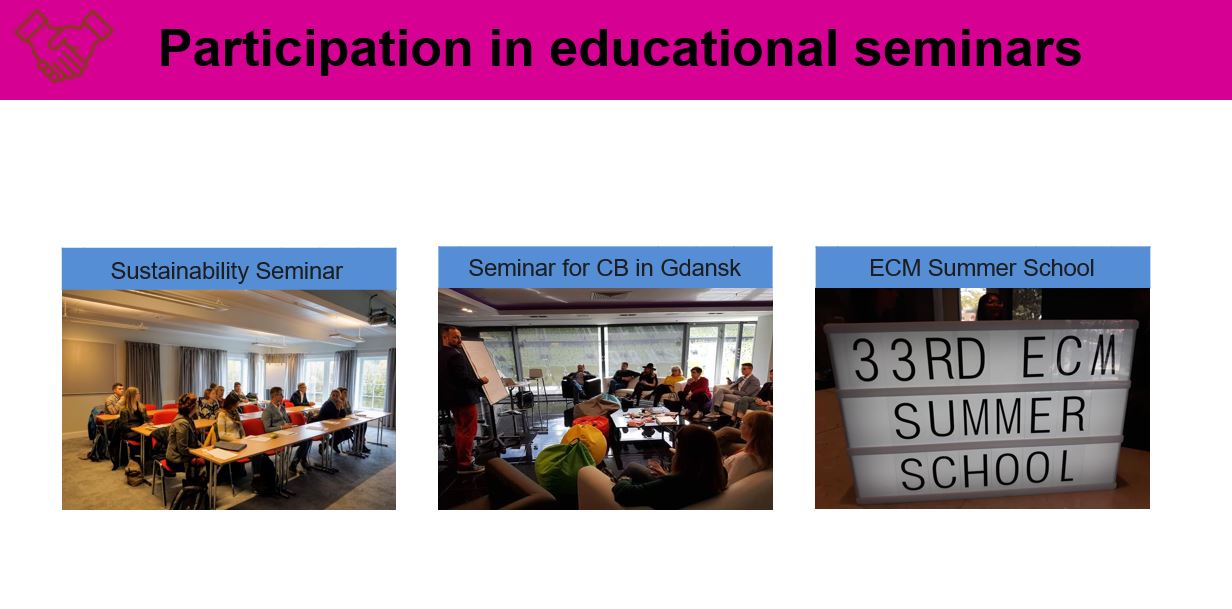 Lviv Convention Bureau visited 8 international exhibitions, forums, trade shows, where promoted Lviv and city's conference industry. For instance, IMEX, IBTM, ICCA Central European chapter summer meeting, ICCA Congress, Convene, Conventa etc.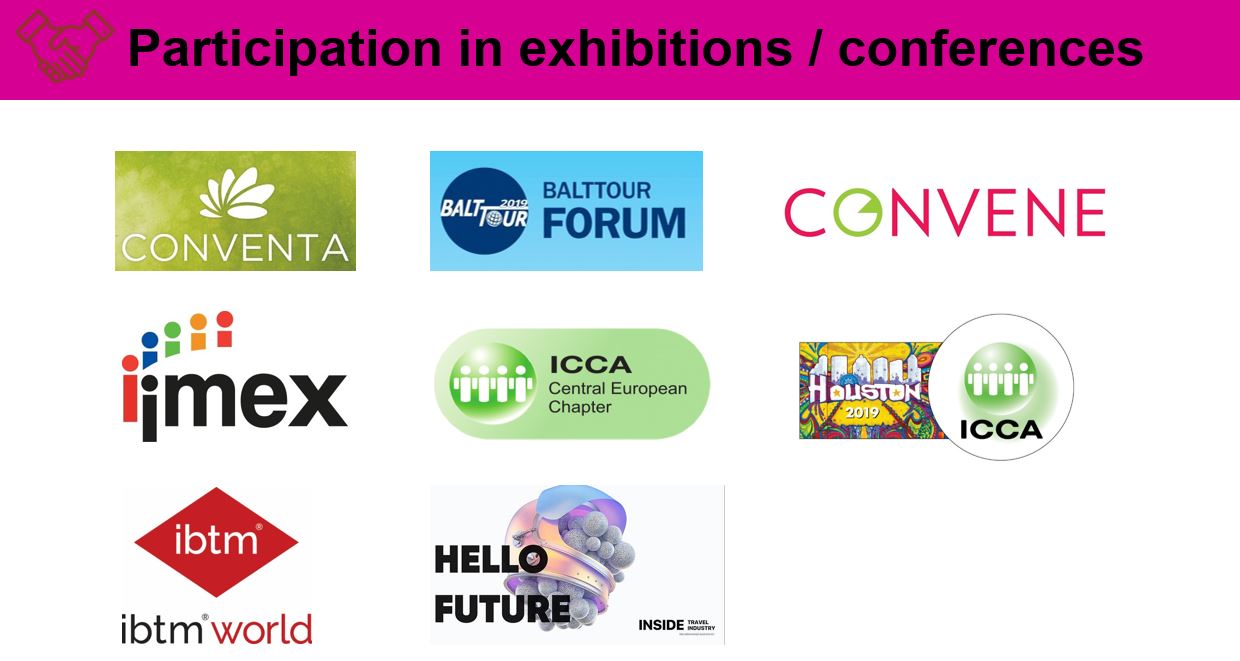 In addition, LCB was co-organizer of  Event Industry Forum, Lviv Tourism Forum «Win with the Lion», Hospitality Business Day, Conventa Trend Bar, where leading experts took part in such as  – Gorazd  Cad.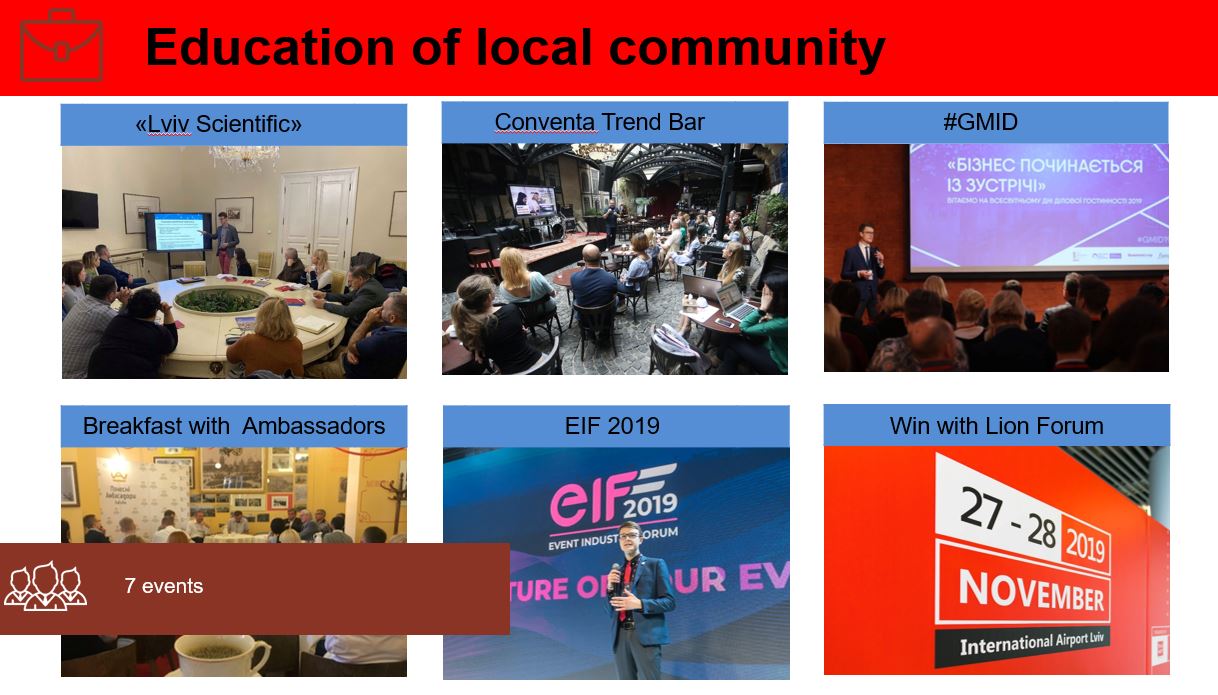 You can find more information here.