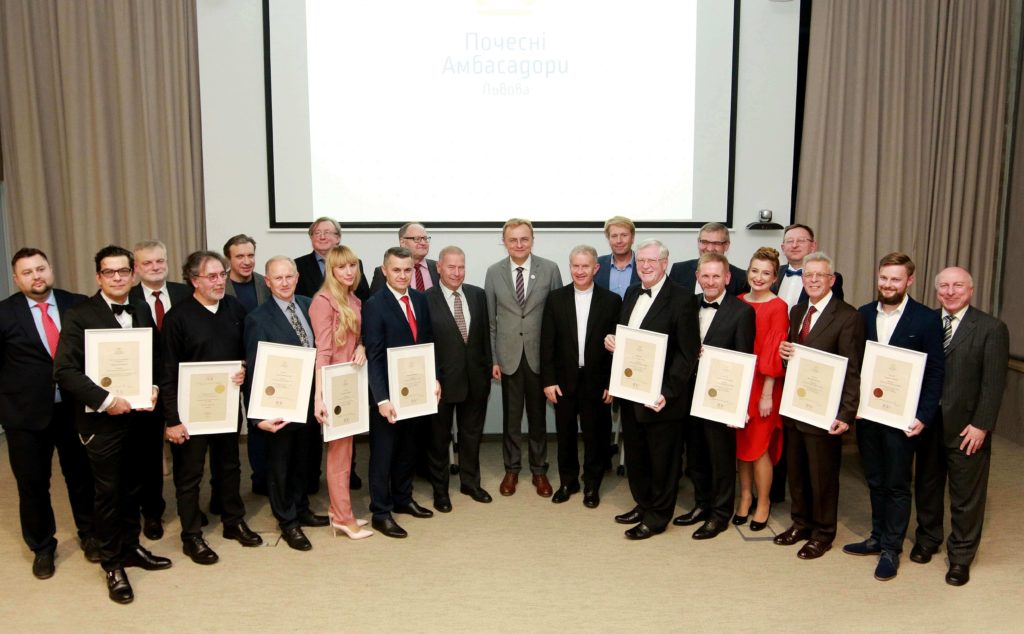 This year Lviv elected its Honorary Ambassadors for the third time. 9 reputable persons representing science, culture, medicine and IT received the official title of Lviv Honorary Ambassador for the considerable contribution to development of Lviv as an international convention destination. Gala of Honorary Ambassadors took place on 23 November at the Metropolitan Andrey Sheptytsky Center.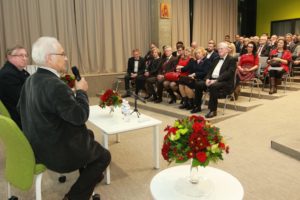 The keynote speech at the ceremony was delivered by Andriy Sodomora, prominent Ukrainian translator, writer and scholar.
"When listening to Mr. Andriy Sodomora, I was thinking about the value of time and how much time we're wasting in our daily life. We need to use time efficiently being among people, who inspire us", mentioned Lviv City Mayor Andriy Sadovyi in his welcoming speech.
"I am very happy to have such a wonderful program of Lviv Honorary Ambassadors. Thanks to this program we are able to attract a lot of interesting and reputable people to Lviv, and our students, lecturers, professors have a great opportunity to learn something new, and get a boost for the following actions. Thank you for your work", added Andriy Sadovyi.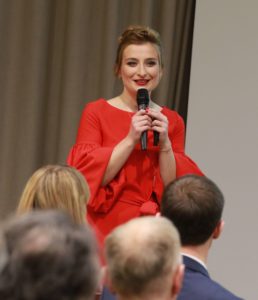 "Such a concentration of well-known intelligent people is really impressive. Dear Ambassadors, you are the people who do not only support science, but also endeavor Lviv evolving. Each of you is doing his best in your area. In our opinion, Honorary Ambassador is a person who travels a lot and by using his authority and expertise has a chance to talk about Lviv and encourage people to come here and learn more", said Lina Ostapchuk, Head of Lviv Convention Bureau.
The program of Lviv Honorary Ambassadors, implemented by Lviv Convention Bureau, has been launched in 2015. For the last two years the city has gained 21 Honorary Ambassadors. This year nine more professional people representing science, culture, technology and medicine join Lviv Honorary Ambassadors community.
"Honorary Ambassadors' Program is an important tool in the development of the meetings industry of the city. According to ICCA research, those cities, regions or countries where Ambassador Programs successfully work are more likely to win international congresses", noted Lina Ostapchuk.
While selecting the Program finalists, the commission paid attention to the following criteria: tight and long connection to Lviv, success in business, leadership and respect in the professional field, a good reputation, public figure, high level of morality, and personal participation in the conference management.
Lviv Honorary Ambassadors for 2018-2019:
Bohdan Cherkes – Director of the Department of Architecture of the National University Politechnic of Lviv
Oleksiy Kohan – Radio journalist, producer and art director of Jazz centre in Kyiv, creative curator of Leopolis Jazz Fest
Ihor Novytskyi – Professor of the Department of Ophthalmology at Lviv National Medical University
Аndrew Pavliv – CEO & Co-founder of N-iX, Supervisory Board Chairman at Lviv IT Cluster
Maciej Śmietański – Associate professor at Medical University of Gdańsk, Head of the Surgery Department at F. Żaczek Hospital in Puck, Poland
Rostyslav Stoika – Head of Department of Regulation of Cell Proliferation and Apoptosis Institute of Cell Biology of the National Academy of Sciences of Ukraine
Andriy Trokhymchuk – Leading researcher at the Institute of Condensed Matter Physics of the National Academy of Sciences of Ukraine
Vasyl Vlizlo – Director of the Institute of animal biology of NAAS
Fedir Yurochko – Otolaryngologist at Lviv Regional Pediatric Clinical Hospital OHMATDYT
Full list of Lviv Honorary Ambassadors see on the website.
Photo gallery from the ceremony see by following the link.