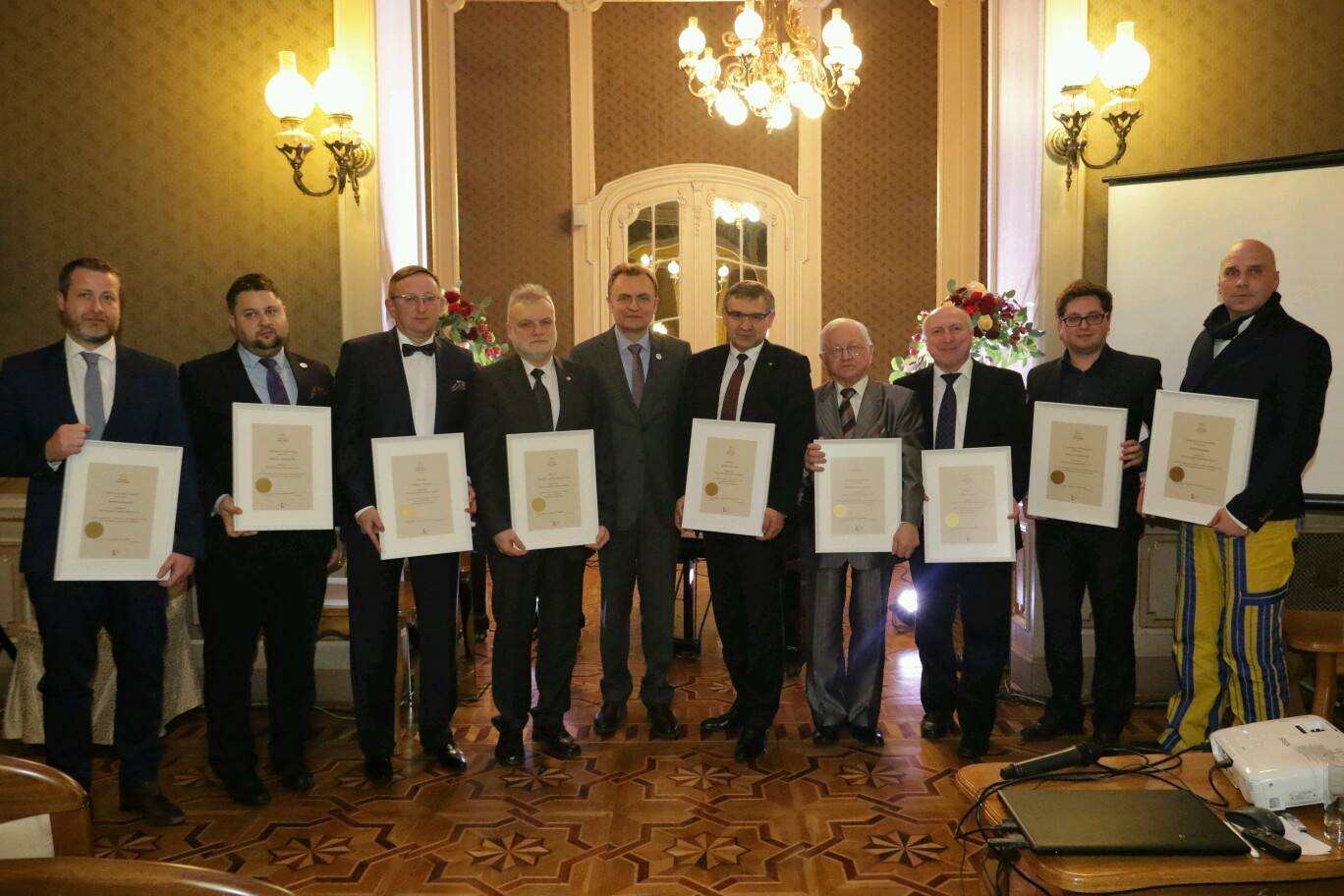 On November 24, 2016 second (in the history of Lviv meetings' tourism) Gala of Honorary Ambassadors took place in the House of Scientists. 10 newly nominated finalists received the awards of Lviv Honorary Ambassadors for the considerable contribution to the development of Lviv as an international convention destination.
"People are our greatest asset. Owing to you, hundreds and thousands of guests are able to see the city of Lviv. It is visited by people who can hear, see and analyze. I am pleased when conferences held in Lviv are attended by Nobel laureates, people who have already established their authority in the world, who are able to understand various processes that are currently running in our global society. Thus students of Lviv have an opportunity to come and listen to the first-hand information.
We all wish that our city, our country, and our families were happy and successful. You are making a very great contribution by means of your work. Thank you for the work you have done. Thank you in advance for the work that you are inclined to do in the coming years," – remarked the mayor Andriy Sadovyi.
"We choose Ambassadors for a term of 2 years. Honorary Ambassadors are highly professional people who use their authority and expertise to promote Lviv as an appropriate destination for holding MICE events (Meetings, Incentives, Conferences, Exhibitions) as well as to promote the values they cherish and the values we all cherish in Lviv. 11 Ambassadors were chosen in Lviv last year. Their scope of activity embraced politics, science, information technology, business, and medicine. This year we have a little more science.
The city of Lviv also supports scientists through the program "Scientific Lviv" that started in the autumn of 2016. The development of conference industry is impossible unless we support science. The program "Scientific Lviv" anticipates scholarships for talented scientists and partial funding of the conferences from the city budget. In particular, the funding of the program for 2016 is 500 000 UAH (19 400 USD)," – mentioned Lina Ostapchuk, the director of Lviv Convention Bureau.
Lviv Honorary Ambassadors for 2016-2018
 Miroslaw Boruszczak, professor of Academy of Tourism and Hotel Management in Gdansk, Poland.
Matthias Brandt, director of the project Integrated Urban Development in Ukraine (GIZ).
Zenia Chernyk, president of the Ukrainian Federation of America.
Roman Hladyshevskyi, vice-rector for science and research at Ivan Franko National University of Lviv.  
Yuriy Kosenko, deputy director of the State Scientific-Research Control Institute of Veterinary Medical Products and Feed Additives, doctor of biological sciences.
Rafał Koziński, founder of the programme of cooperation "Trans Misja Lublin Ukraina".
Roman Lesyk, professor of the department for pharmaceutical, organic and bioorganic chemistry at Danylo Halytskyi National Medical University of Lviv.
Marek Slawatyniec, general manager at AVIAREPS SA, Poland.
Oleh Turiy, vice rector for Program Development at Ukrainian Catholic University.
Andrzej Tymowski, director of international programs at American Council of Learned Societies, New York, USA.
The finalists were selected by the comission according to the following criteria:
Tight and long connection to Lviv
Success in business
Leader with a team and followers
Authority and good reputation in the professional field
Public figure
High level of morality
Personal participation in conference management
The program of Honorary Ambassadors was launched in 2015. Its main aim is for Lviv to enter the global MICE market (Meetings, Incentives, Conferences, Exhibitions). According to ICCA (International Congress and Convention Association), cities, regions, and countries where similar programs are implemented host a higher number of international congresses than those where analogical programs are not implemented yet.
The initiator and implementer of Lviv Honorary Ambassadors' Program is Lviv Convention Bureau.
More photos from ceremony follow the link
Video from ceremony follow the link.