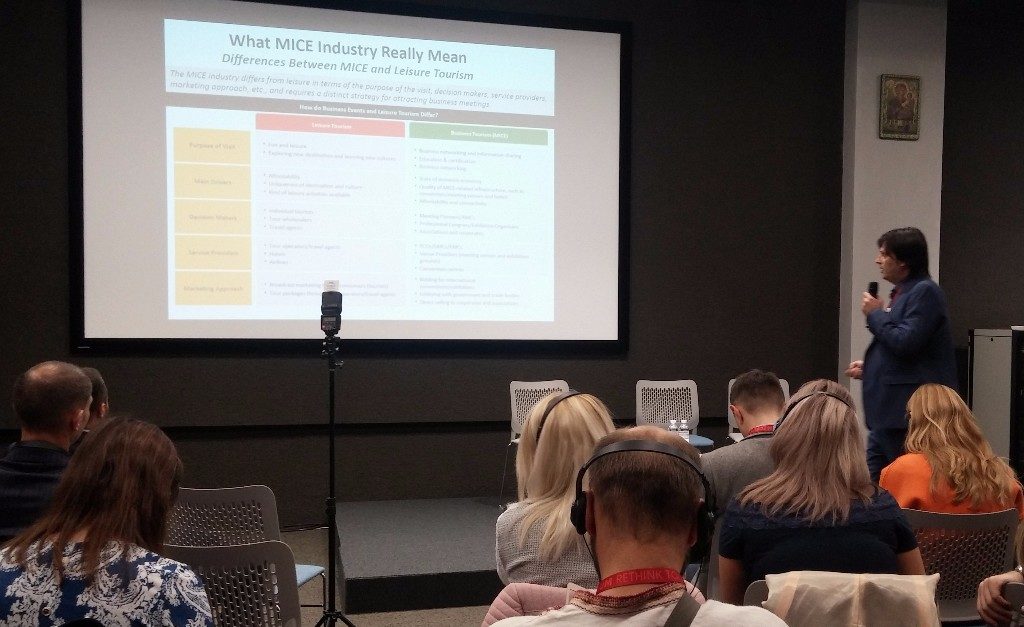 On 19 October Milos Milovanovic, a Gaining Edge consultant, made a presentation about creative approach in preparing a successful bid at Lviv Tourist Forum 2017. Milos was the CEO of the Serbia Convention Bureau in 2007-2014. Under his leadership the bureau has made constant progress in International Congress and Convention Association (ICCA) rankings making Serbia the top 50 globally, as one of the exciting and emerging Eastern European convention destinations. At LTF 2017 he was speaking about the role of convention bureaus in MICE industry and shared Serbia's experience in building a successful destination. See the main theses of his speech below.
What MICE Industry Really Means
MICE events attracts industry and government leaders, scientists and researchers, members of international associations, and investors. In this way, meeting industry provides platforms for knowledge exchange and professional development of the local business and professional community; promotes the growth of new industry sectors, the creative economy in particular, and helps to develop international business networks. This is how MICE contributes to the economic development of cities and regions.
Convention participants tend to spend more money (about 3 times) than leisure tourists. At the same time conference delegates are potential leisure tourists and will probably come back to the city with their friends and families. These are some benefits meeting industry gives to the city.
MICE engages and develops human (intellectual) capital of the destination, which is the most important resource that any destination has and can count on. Meeting industry provides jobs for a lot of people working as suppliers: convention & exhibition centers, special venues (universities, cultural and historical buildings), hotels, event planners organizations (PCOs, DMCs, EMCs), transport companies (airlines, ground transport, local transfer), service suppliers (AV equipment, catering, translation, security services, entertainment providers), destination marketing organizations (Convention Bureaus, tourist offices).
From Leads to Bids
Every year hundreds of thousands of international congresses and conferences are held in the world. How to choose the ones that can be held in your city?
First of all, you should find out what the industry strengths of your city / region are, and which of them are targeted sectors. Then you source the leads (f.e. ICCA database, local institutions, referrals, web research, trade magazines & media, trade shows, business networks, event calendars), qualify and prioritise them by different criteria (number of delegates, number of rooms and conference halls in the hotel, delegate profile, the local host, industry sector, event history, etc.).
While choosing an event,  the destination should understand the goals and motivation of meeting planners. What is the aim of association that hosts the world congress? What results do the organizers expect to achieve? Which cities / regions do they tend to choose and why? Is your destination able to assist in helping the Association achieve it's goals and aspirations?
Answers to these questions will help the city to select the leads that correspond its potential. It is important not only to prepare a standard bid of the city / region, but also to accomplish organisational goals.
Creativity: Strategic Position and Strengths
Formally the positioning of major cities (Barcelona, ​​Singapore, Dubai) is almost the same. New destinations, appearing on the international MICE market, should analyze their strengths and weaknesses, and find things they offer better than their competitors.
While making destination assessment you need to take into acount the quality of hotels and convention centres, facility package, air access, necessity of visa, ground transport, related industry, local host, cost, safety & stability, government support, unique venues, climate, destination appeal, entertainment, etc.
In the bid you should highlight the strengths of your city, differentiate against your competitors weaknesses without naming them, turn your weaknesses into positives, and develop creative offers.
The question to meeting planners is not "What are you looking for in a destination?", but "What are you seeking to accomplish through your meeting?". If the city (or region) has a clear strategy, customises its bid, speaks clearly to what organizers want to here, and solves their problems, it will win over destinations that do "stock-standard" bids.
See Milos Milovanovic presentation by following the link.