Lviv Convention Bureau continues to tell international partners about what is happening in Ukraine, in Lviv; to explain why it is necessary to stop doing business with russian companies, and most importantly – how to help Ukraine today.  We launched a series of interviews "Industry talks during the war" with international and Ukrainian experts in the exhibition industry. The initiative is dedicated to coincide with the Global Exhibition Day. The next video from the series of interviews "Industry talks during the war" with Anna Petrova – owner of MMP Forums and BTL Group.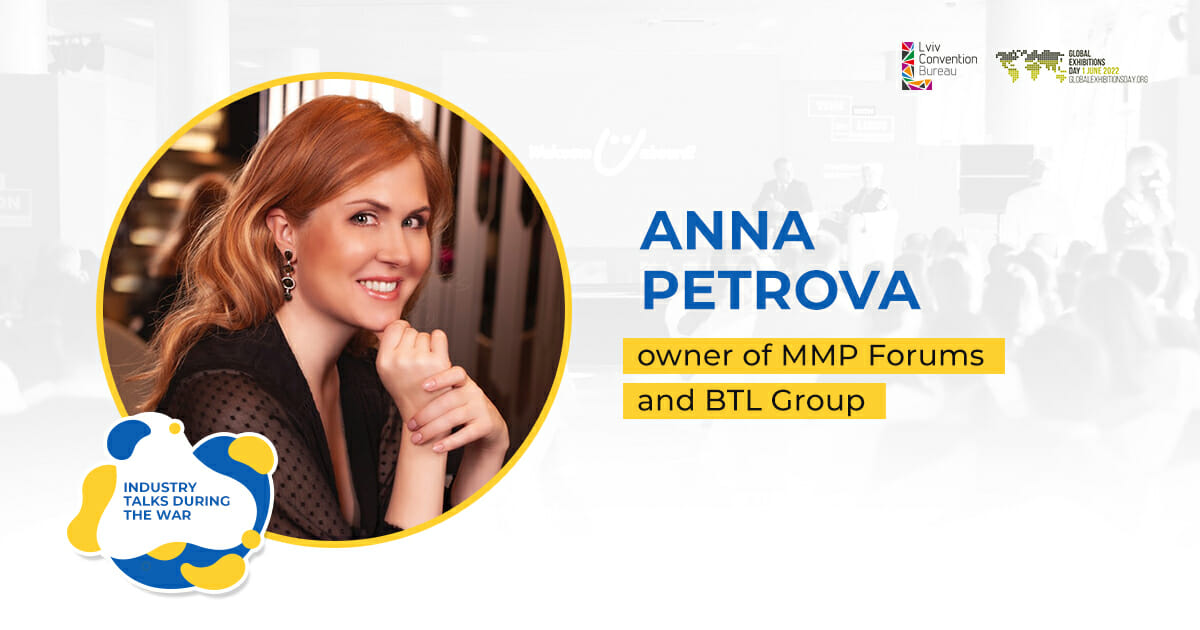 Hello, Anna. Good to see you. Thank you for joining our project. It's always nice to see familiar faces. After the difficult months and days that Ukrainians have been going through, talking, communicating and just knowing that a person is alive – that already means a lot to us.  We are all now in the fourth month of the war. Ukraine is fighting against the Russian troops, against the barbaric pile. Many events have occurred during this entire period, a lot of things have changed in a short time. Tell us please where the war caught you, how you recovered from the horror, where you are now – in Ukraine or abroad?
The war caught me near Lviv. I was on vacation at the Edem Resort, which I really love. I was on a detox program when it happened. I was already unable to return to Kyiv, because in the first days there was a problem with the railway connection. I went to Warsaw, to my friend's place, where I spent about a week. After that, I was invited by my friend to stay at his place in Berlin. I'm here at the moment. But in this short time, I have already traveled to Kyiv several times. I was visiting my hometown. I am in touch with Ukraine.
Now many people are changing European cities. At the same time, they're finding opportunities to return to Ukraine to understand what the situation is, whether it is safe to return or not. You are the founder of a company that organizes business events around the world. You have offices in many countries, including Ukraine. What is happening to your business now? How is the work done? What about the employees and the companies?
The next challenge for MICE employees after two years of the pandemic is war. We already thought that COVID-19 was the climax of everything. But no. Still ahead. We are currently working in Azerbaidzhan, in Georgia. So we keep on working. Now there is a business recovery, more or less. In Ukraine, it is difficult for us, although we continue to receive requests from our customers. Today we received a request to hold a big congress, outside Ukraine unfortunately. Nevertheless, this allows us to support our team and participate in projects.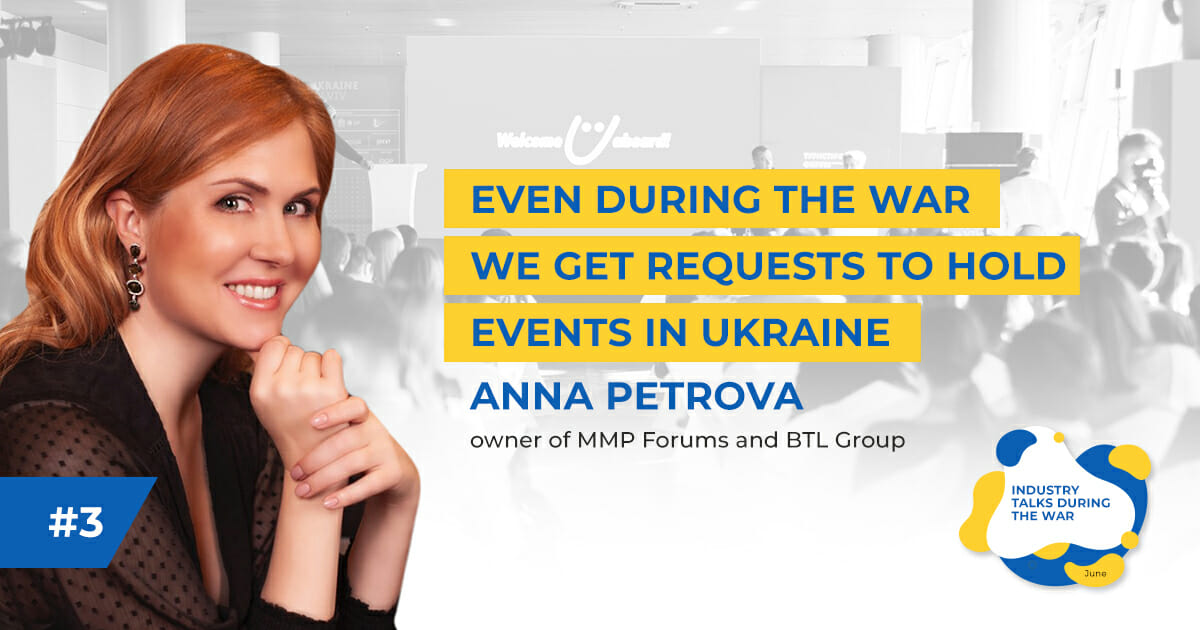 Have you relocated your team? Or have your team stayed in Ukraine?
Some people remained in Ukraine, some have already managed to return from other cities to Kyiv. Several girls remained in the western regions of Ukraine. Another 10% are now in Europe: in Poland, Germany, Spain. We work remotely, we're in touch every day, have conference calls every day. We were already used to working remotely during the pandemic. It's just that everyone is working from different countries right now.
You keep in touch not only with your team, but with all the professionals in the MICE industry. You have organized a Zoom call with event professionals, with people who work in the MICE industry. You initiated the creation of a Telegram channel, where you exchanged information about how to move from one place to another, how to evacuate from the combat zone, find a new job, or simply get psychological support. Tell us please more about this channel. How is it currently functioning?
On the second or third day of the war, we were thinking with the team what we could do for our society. We thought that a good idea was to focus on the specific people we know, on the professionals in our industry, on our colleagues, on helping them and their families. So we created a Telegram channel – "MICE-support", which in the first stage of the war helped our colleagues to find information about how to find a place to live and work in different countries. It was such a volunteer idea. We've been doing this for about two and a half months. Then, unfortunately, these volunteers, my colleagues, switched to a commercial project. It was necessary to keep working. Still, we helped a little. Every day we received 15 different requests that we were working on and trying to help with. We made a chatbot that was divided into different areas: travel, work and other issues. We were like a concierge service.
That's great. In the early days, everyone was looking for support. Such communities were very helpful. Everyone was confused, did not know how long the war would last, what would happen next. Communities like this have made it clear that you're not alone, that there are people who support you. You work closely with international partners. How did they react to the war in Ukraine? Have they sent support emails? Were they involved in humanitarian projects? Have the various associations of which they are members been approached to stop doing business with Russia? Please tell us more about this.
What I love about the MICE industry is the sense of community and support. I personally received tremendous support during this period. It's priceless. I didn't even expect it. I received messages from New Zealand to the United States. A lot of people have responded. Even in our Telegram channel there were several opinion leaders from the MICE industry, from different countries in Europe, who really helped us solve many daily issues. It was powerful.
For many years you have been organizing a recognizable product – MMP Forums – a business forum for professionals in the MICE industry. It took place in many countries and cities. Last year there was a successful version in Lviv where we invited buyers. We hoped that this year we would be able to hold a forum in Lviv, to come up with interesting formats for cooperation. What are your current plans for this project? Of course, now it is ungrateful to plan.  And yet the industry is not stopping. We must think about the future, and believe that it will come. Did you talk to your team about the forum? Have you spoken to international partners? What do they say? Are your international partners ready to come to Ukraine?
MMP Forums is an international project, but born in Ukraine. All our flagship events took place in Ukraine. In Kyiv, there was our last post-Covid forum, its first part. Then we did a part with you (Lviv Convention Bureau) in Lviv. By the way, I'd to thank the Lviv Convention Bureau for your support. We are currently planning to hold the next forum in Riga, Latvia in October. At IMEX, we have made final arrangements with partners from Latvia. In a few weeks we will make an announcement about the event. We will promote Ukraine. You are welcome. I will send more details with the information a little later. The project is alive and well. We continue to work, we're even planning for next year. As you pointed out, it is not very easy to plan now, even a few months in advance. But we plan to hold a forum in Berlin next year. One of our participants, who participated in the second part of the forum in Lviv, Denis Proft and his company "Platinum Events," will be our co-organizer and logistics partner for the forum in Berlin. He really fell in love with Lviv. He often compares Lviv to Berlin. Lviv's informality reminds him of Berlin, a city where you can have a great time, where there are various restaurants, a special atmosphere. I hope very much that we will also be able to hold a forum in Ukraine next year.
I would like to talk to you a little more about the exhibitions. Our project is aimed at the exhibition industry of Ukraine and the world during the war. We timed it to International  Exhibition Day, celebrated in early June. Exhibitions are always about sharing knowledge, about cooperation, new ideas, about projects. Now it's all on pause in Ukraine. Everyone understands that it is unrealistic to hold exhibitions for safety reasons. During the last two quarantine years, there has not been any opportunity for the industry to organize exhibitions normally and work at full capacity either. After two years of quarantine, after four months of war, what do you think we need to do to restore the industry? What are the first steps to take? What do we need to focus on? How should we plan to return to our previous metrics? How can we begin to revive the industry after the difficult times we are going through?
The positive side of the war, if I may say so, is very good PR for Ukraine around the world. They know us everywhere now. This is already very good. We need to keep doing what we are already doing. I mean the popularization of Ukraine. For example, the way you (the Lviv Convention Bureau) did it on IMEX, and the way we're doing it with our MMP Forums. We talk about our country, what we can do here, how it differs from other countries. I think everything will be fine. I'm sure of it. Now there is a very great interest in Ukraine, there is pent-up demand for our country. I think that as soon as it's possible to host groups, as soon as it's possible to host exhibitions, conferences, congresses, there will be a boom. I'm sure of it. We only have to be strong. Do not lose the will to win. Everything will be OK. I'm sure of it.
We believe that and hope for the best. Exhibitions are now beginning to recover after a two-year break. We saw it at IMEX. Of course, not the formats we had before the pandemic, but after two years of tough restrictions, it was like a breath of fresh air. Seeing people without masks, talking to each other in person. Now there are a lot of different opinions about whether Ukraine should participate in similar events, such as international exhibitions. We do not have the opportunity to host people now, because of the war in Ukraine. Some say it would make sense to focus on something else, on aid. Do you see any point in Ukraine participating in these international events? How to do this in the present situation? We are often asked why you have come. You're at war now. It is impossible to do business right now. What are you talking about with your partners? How do you promote the destination? How do you sell a location if you have a war? In your opinion, how do we establish cooperation with international partners in the conditions of war?
I am sure that we must continue to be part of the community, not to fall out of our arms, to remind ourselves. The right moment will come very quickly. We need to keep up the activity. I do this myself: I meet with partners, remind them about me, that life continues in Ukraine. And even my trips to Kyiv confirm this. In Lviv, the same picture. Life goes on.
At IMEX we were often asked where we now live, where we would return after the exhibition. We answered that we would return to Lviv, Ukraine. Yes, of course, we are relatively safe here. We can't say that Russian missiles don't reach us. Even during IMEX we had a mobile app that reported an air alarm. We all live in parallel realities now. Sooner or later they will end. The war will end. And we have to move on. And in this horizon we must continue to keep in touch with our partners.  Your opinion on another issue is also interesting. Coming back from IMEX, we had a lot of insights. One of them is that the industry will not return to pre-pandemic times. Everyone is tired of the usual round table formats. There are new trends. For example, business travel with loved ones, with animals. In two Covid years, everyone is used to being together, living in the same room, spending time together. As a result, business meetings will be different. So event organizers must prepare for the transformation of travel, for the transformation of exhibition activities. We need to come up with interesting formats. How do you respond to these trends? What is your attitude?
I guess I don't have a very standard opinion. I believe that there is a future in live formats. I see how everyone misses the energy that happens only when they meet live. We felt this during the MMP Forums in Kyiv, when after a long pause we met with all our colleagues. It was just wow. We also felt it during the IBTM in Barcelona, during the IMEX in Frankfurt. When all restrictions were lifted, we had many requests in BTL Ukraine. If not for the war, it would have been the same as at the level of 2019. We were recruiting, looking for MICE-managers. We had a lot of inquiries. We're all human beings. We need live communication. We need the tactile, we need real people. It's very important for us to communicate this. No Zoom, no Teams will replace this. It is my opinion. Probably there will be some new trends related to the limitation on numbers of people. For example, now in Germany, where I am, I still have to wear a mask on public transport. There are minor restrictions on the organization of events. This can be point-by-point, in individual countries, situational. Even now, during the war, we have requests for round tables, for example, agricultural companies in Ukraine. It is important for them to bring their staff to a particular point, to a particular hotel, to hold a live meeting with representatives of different regions. This is more effective than holding 10 Zoom calls.
We see the same trend in Lviv. Even in bomb shelters, they continue to make live events in different formats. Two weeks ago there was a major Spring Business Forum. International partners from the European Union, from the UN, came. They talked about how Ukraine will be rebuilt, what reforms are needed from our side, and what partners to involve. Everyone is looking to the future. As a result, funds and efforts will be accumulated to ensure that Ukraine is revived. Everyone wants to see each other now and talk about it, plan for the future. This gives us great faith and hope.
 I support that. I believe that.
No matter how optimistic we are, we are still at war. We have a war-life balance, war and life in balance. It is difficult to experience everything emotionally by reading news and social networks. Every day after the various losses we see, it becomes more difficult. Despite everything, we need to move on. How do you not run out of energy? How do you keep fighting in your professional field? Where do you draw strength from? What helps you move forward, plan your work, events, cooperate with partners?
It is very important to support my relatives, my family, my team, the players in our industry, because I communicate with many people every day. It is also very important for me to be in good physical form. I try to do yoga online with a Ukrainian yoga teacher two or three times a week. It gives me a lot of energy. It is also important to be involved in something useful. For me right now, it's MMP Forums. I have great faith in the future of this project. I believe very much that this will help our industry to stand up, including Ukraine. The entire team working on this forum is Ukrainian. Although we are located in other countries, this does not prevent us from working fruitfully and effectively on this project. The fact that we had several offices helped us, even during the pandemic. We already had a culture of working at a distance. We used all of these tools before COVID-19.
Thank you so much. I see you have three main points: the importance of support from colleagues and the industry community, sports, and keeping busy with worthwhile projects. This helps us to not lose our minds when reading the news every day. Thank you very much for this short conversation. It is very important for us to stay in touch with our partners and colleagues from the MICE industry. Thank you for joining "Industry Talks During the War". I hope that we will record the second version in a few months. And compare what has changed during this period. We remain positive, we believe in the future of our country, we believe that our industry will recover. Our partners will help us in this, we will help ourselves in this, because we are confident in our abilities.
Thank you. I am very pleased. Thank you for inviting me. Let's stay in touch and support each other. This is very important right now.