Lviv Convention Bureau continues to tell international partners about what is happening in Ukraine, in Lviv; to explain why it is necessary to stop doing business with russian companies, and most importantly – how to help Ukraine today.  We launched a series of interviews "Industry talks during the war" with international and Ukrainian experts in the exhibition industry. The initiative is dedicated to coincide with the Global Exhibition Day. Our new video with Myron Uhryn – dentist, president of the National Union of Dentists of Ukraine, founder of the Myron Uhryn Charitable Foundation.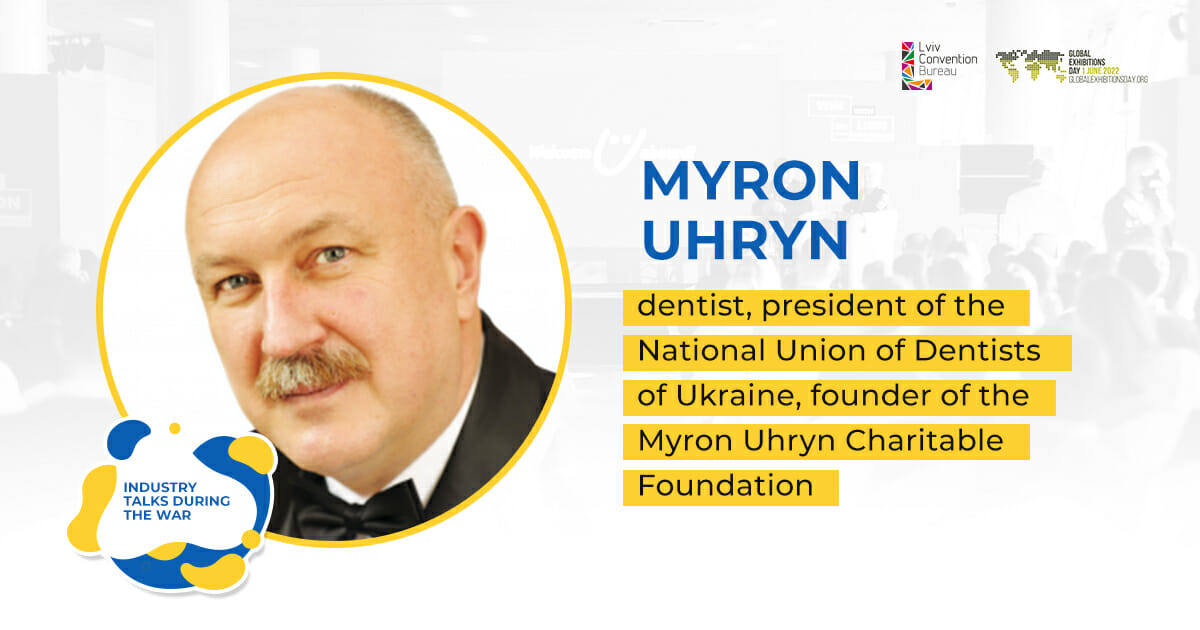 Good afternoon, Mr. Myron. Thank you for joining us. We have a lot to talk about today but let's start with what we are most worried about right now – the war in Ukraine, what we are living through now. We know that you have been supporting and helping the Ukrainian military, not just since February 24, but for the past eight years already. Most of it is volunteer activity. Eight years… It's the fourth month everything's been going on. How has your volunteering changed? You have an incredible number of different projects, an enormous number of patients that you've saved. In these eight years and four months, there have been different stages. Things that were prioritized at the outbreak of the war in 2014 are not a priority today. What has changed after the full-scale war? What are your priorities in volunteering now? What are you doing at this moment?
 You are absolutely correct when you say that we are all living in wartime now, unfortunately. We have to live because war has become our present life. There is really no other option than victory in this war, and gaining independence. I would divide these stages that you talked about into three. The first is the Maidan. The second is the events in the east of Ukraine, including the annexation of Crimea. And (thirdly) what happened on February 24th. This is a war, a full-scale aggression on the part of Russia. If we talk about the beginnings, about the first part, then it is very simple. Why, for example, I asked myself the question, did I go to the Maidan (the "Revolution of Dignity" that took place in Kyiv in 2014, also known as the Euro-Maidan Revolution)? What was important for me was (Ukrainian President Victor) Yanukovych's refusal to sign the association agreement with the European Union. I realized that the normal path of development (European, world) was being closed off to my children, grandchildren and they were being turned back, pushed way back to the past. 
That was my first challenge. I did not even hesitate and went there (to the Maidan) to support the wishes of young people, so that people would not be shut out, would not have their opportunity to develop and realize themselves taken away. Since the beginning of the bloody events on the Maidan, many of my colleagues (medical doctors) have joined the common cause. I made my first operational intervention in the October Palace near the Hotel Ukraine (in Kyiv). This was in January 2014. Then the events in the east of Ukraine broke out. Many participants in the Maidan, such as Yaroslav Chomko, a doctor from Ivano-Frankivsk, went to the east of Ukraine; he died in the first days. Everyone wanted to contain the aggression in the Donetsk and Luhansk regions.
If we talk about the annexation of Crimea, it went pretty stupidly for me.I was a  speaker at one of the conferences in Crimea during that time. After the conference the Simferopol airport was closed. I stepped over those green men. Neither I nor the residents of Crimea at that time understood that the annexation was taking place. They (the residents of Crimea) laughed. I also had skeptical thoughts, but after the conference I was already had to take the train to get out of Crimea because the planes were canceled. Thus, our first challenges began, and they dragged on for 8 years of confrontation in the Donetsk and Luhansk regions…  …where combat operations were happening constantly. 
From time to time, we lost a lot of people, so for us (dentists), the first serious challenge was to establish a dental service in the Anti-Terrorist Operation (ATO) Zone – Joint Forces Operation (JFO) Zone. We did it as part of "Project Trident" in Karlivka, Donetsk Region, and "Trident-2" in Shyrokino, Donetsk Region. Recently, we've been restarting another project in Luhansk.  This is our attempt to support the Ukrainian military in the confrontations in Crimea, in the east of Ukraine. Unfortunately, we haven't learned much in a while. We could sense that Russia would not stop there, that Russia would unleash a war. I didn't want to believe it. But it happened. Now all the doctors have stood up to confront this full-scale war, the aggression of Russia. Everyone does what he can in his place: somebody fights, someone operates, somebody volunteers. Humanitarian aid is handed over every day. We do everything to ensure that the armed forces of Ukraine can resist the aggressor, can cut off, and even better – push them beyond our borders. I can't say what has happened to them (the Russians). I get the impression that this is some kind of rabies (that they've contracted). And those who are rabid must either be killed or be separated from other people. Let them gnaw. We must live, and follow the path that Maidan showed us.
You mentioned your initiative, the mobile equipment project Trident, which was closest to the front line until February 24. What is happening now with this equipment? How does it function? Does it remain in this area? Or have you relocated it elsewhere? 
Trident was the largest project in Karlivka, Donetsk Region. More than 40 thousand people from "Dobrobat" (a volunteer rebuilding division) and servicemen passed through it. The second most important was "Trident-2." Our Trident was positioned 17 kilometers from Donetsk airport. Trident-2 was near Shyrokino, Donetsk Region. They are now at zero. There was also a project in Mariupol called "Alice," which was in the hands of the marines. At that time, many dentists lost their practices, became refugees. People began to arrive in the ATO zone. For example, there were servicemen, people from "Dobrobat". Providing dental care was a big problem.  It was a serious challenge for us to organize a dental service. We did it in the ATO zone – we created mobile dental offices. Now they have again gained great importance in such places as Bucha, Irpin, Mariupol. Now, once again, there is a catastrophic shortage of dental offices. We, unfortunately, cannot provide enough volunteers for them. 
We appealed to (Ukraine's) National Security Council (when the president of Ukraine was Petro Poroshenko) and asked the council to order the Ministry of Health to provide mobile dental offices. There were about 44 of them on the balance sheet. The National Security Council adopted a protocol on the mobilization of these offices, which President Petro Poroshenko signed. But only three such mobile dental offices could be found. We have now contacted the Ministry of Health again and asked to look for the rest of the offices, to provide the problem points that are needed to provide dental care. In this interview, I will address dentistry more because this is my field. But the situation is generally similar in all spheres of medicine.
Trident was not only dental equipment, but also about culture. There was a radio, and various meetings were organized at the site. We built the church of St. Anne nearby, and various cultural figures have visited it. What is the situation with the church now? Please tell us how you keep in touch with the military men who were near these facilities.
Trident in Karlivka, Donetsk Region, has turned into such a cultural, educational and medical center – 40,000 people passed through it. That's a lot of people. When we started, it was exclusively dental care. Then Ihor Yashchenko and Vasyl Mezentsev suggested creating the radio station "Trident FM," because there was no radio station that could reach the occupied territory with information. We made towers ourselves, put up equipment, and invited famous people. Zhadan was there, Viktor Morozov and Ada Rogovtseva spoke. We did interviews and played Ukrainian music. 
And as for the spiritual center of St. Anne's Church… Imagine, I come there to operate on Friday morning, and 30 military sick men from the front are brought in. I had to accept the first patient early Friday morning and 30th on Saturday morning. They (sick soldiers) cannot be brought and taken away individually. They are brought and taken away together. Some of them waited all day in front of the house where we provided services, in front of the machines where we performed medical surgeries. So we decided to create a spiritual center in the form of a church, where there would be a library where people could sit, wait, read, where we could give lectures, for example, on how to brush your teeth. Why not? Many artists exhibited their paintings from all over Ukraine. We held various exhibitions. It really came out as such an iconic center. If someone has visited the east of Ukraine, but has not been in Karlivka, Donetsk Region, then you can say the person has not been to the east of Ukraine. This is an interfaith center. Chaplains of different denominations, except the Russian Orthodox Church, can do baptisms and marriages. Now, unfortunately, there is more mourning. Now it (church) stays on our territory. We managed to divert mobile equipment, a mobile operating unit, a digital laboratory, and mobile dental offices. There is only a stationary house now where there are two dental offices, where dentists come from time to time.
The church is functioning. Recently, Father Zagarko of the Ukrainian Orthodox Church held a church service there and posted it on Facebook. The church is there. The church exists. We hope that it (church) will continue to stand, and that it will not be destroyed. Although…
We see that there are already examples that they (Russians) have nothing holy. It can't be said that there are still some things they will pray for and have fear of. You are a representative of many different organizations and associations, and you communicate a lot with your colleagues from abroad. What was their first reaction to the war in Ukraine?
I am really a member of a lot of organizations. I am quite an active person. This year we were going to hold the 10th Eastern European Conference, which, as a rule, gathers from 1,500 to 2,000 people, specialists from 40 countries. In these 20 years, through our activities, through our conferences, we have become known to the whole world, to the most famous specialists in the world.
 Since the beginning of the full-scale war, since the announcement of the cancellation of our conference, it was a joy to learn that none of the listeners, none of the speakers refused to participate in the conference right until the last day. Almost the absolute majority of these 40 countries of the world, leading specialists, leaders of specialties, followed by millions of people, they see the situation in Ukraine as it is: aggression, attack, genocide, murder. That is, they called things by their name. A number of organizations, representative companies that sell dental products in Russia, which had their representative offices in Russia, did not react so quickly. NGOs, many of whose members were Russian doctors, veiled the war with words like conflict, incident, situation in their speeches. Our dental community has created a special group – Dental Resistance. For each letter that incorrectly indicated the situation in Ukraine from NGOs, we asked to replace the wrong words with the right ones: war, aggressor, Russian-Ukrainian war. 
Today I can no longer name those who disagree. From our community, almost everyone perceives the need to help in this war, as an understanding that it is a threat not only to Ukraine, but also a threat to the whole world. Poland helped the most. In a presentation, I showed a photo from February 26 with Poles holding a poster that said "Help for Lviv." On February 24 the war began, and on February 26, "Help for Lviv" was written on the fence, on the border. It was a very quick reaction. There was great support for the refugees. We held a joint Zoom call with the Ministry of Health of the Republic of Poland, with the chief specialists, with the presidents of (dental) associations in Poland. I was surprised at how many steps they had already taken to help Ukraine. There were maps all over Poland listing cities, with information where refugee can apply for settlement,  for medical care. Dental offices gave their contacts, where to go for medical care. The Ministry of Health of Poland has decided that by the end of the war it will be possible to get a job on the territory of Poland in a simplified way. This is very important for us. I am providing metal osteosynthesis for maxillofacial injuries. We have received the first large cargo of material for this from Polish colleagues, professors Jan and Malgorzata Petruski. Likewise from Lithuania from Simous Gribauskas. Lithuania generally perceives everything as it lives. They (Lithuanians) have been so empathetic ever since the Maidan. The Poles have done a lot for the refugees. I know that there is even a conflict within the European Union. The EU promised to compensate Poland for some costs, as Poland is on the border with Ukraine. They (Poland) have trouble giving out more than they can get. 
I think that  the world saw things correctly. A short time ago I was at a conference in Warsaw, where I talked about problems with maxillofacial injuries. I began my presentation by thanking the Poles for their activity. It's impressive. Among our specialists, participants of my conferences, it is from 1,500 to 3,000 people from 40 countries of the world, they know about us, about Lviv, they know about Ukraine. I have got a lot of positive feedback.
One company from Switzerland which I represent, Geislisch, organized, for example, a run in Switzerland. They have donated $34,000 to my fund. Lithuania donated about half a million euros for metal osteosynthesis. At the same time, at the state level, Ukraine does not purchase anything for people with this type of injury. It's very important. Maybe that's going to change soon. We are actively cooperating with the medical service of the Ministry of Defense of Ukraine, with the Ministry of Health of Ukraine. 
As analysts, we can indicate where there are problems. We're not substituting, we're cooperating. The state must address us, tell us how we can help. On the other hand, we can tell them what needs to be done.
This kind of synergy gives more than criticism of each other. It is obvious that today the conference industry in Ukraine, in Lviv, is paused, compared to how many different events we have had. But despite everything, even in the last few weeks, there have been conferences and exhibitions in shelters in different formats. There are differing opinions on this point. For example, some say now is not the time to hold events. It is better to be involved in humanitarian work. Do you think that this is the right time to hold conferences in Ukraine? Are you currently participating in conferences? What events might interest you at this point?
I believe that life does not stop even though we're in a war. The doctor must, first of all, learn more. The doctor should exchange information, not only offline, but online conferences can also help to share experiences. We've already had almost four months of war. There is already some experience. When I was giving lectures in Poland, I was struck by the specialists sitting in the hall. They had tears in their eyes. They began to understand what a full-scale war was, what rocket and missile strikes were. They realized that it was horror, that it was not a gunshot wound that could be patched up. It is important to hold conferences. Let it be on a smaller scale, let it be in bomb shelters, let it be online… 
Firstly, it is an exchange of information, secondly, it is a way to raise funds for the armed forces of Ukraine. Almost all funds currently received by dentists from conferences, from courses, are directed to the armed forces of Ukraine. It's very important. The notion of telemedicine is also very important now. We are now, together with the Baltic countries, trying to set up a direct Internet connection to the operating room. Good picture, good sound. It's kind of a conference, too. When, during surgery, you can call the USA, and say: "John, look. Have you ever had a medical situation like that?" Simous Gribauskas and I are working on it now. Many more people are connected to such operational inclusions. If the connection, the specialist's speech is paid, then we collect the funds needed. I think that as long as there is such an opportunity, it is no need to stop. Obviously, it is necessary to organize events with complete safety for the participants. 
We canceled our conference. If we gathered 1,500 or 2,000 people at the stadium today, it  would be a target for the enemy. We could have a lot of victims. I am in favor of holding conferences, but they must be in a format that is possible today. I know that the Lviv Convention Bureau is ready to support such conferences. I am the Lviv Honorary Ambassador. It's good that you provide support.
I'd like to add that we're in touch with the international community right now. We are talking about Lviv not only as coffee and chocolate. First of all, we are talking about the professionalism of people, about the new expertise and experience that they can give. We reflected during the war on how we would represent the city: whether it was the time to do this at all, whether we needed it, what we should talk about. We put the focus on  what we call "war experience", that is, the examination of war. We received insane feedback from specialists interested in learning from the Ukrainian experience, especially analysts. We see now that Americans, the British are recording every possible step, everything that happens in Ukraine, to have a database, to analyze and understand how military actions advance, how doctors deal with the wounded, and so on. There are many different points. We have highlighted the experience of Ukrainian doctors, and Ukrainian journalists who oppose Russian propaganda. Of course, a separate direction is Ukrainian doctors and their experience, because they are at the forefront, they face those. A doctor who studied in Germany does not have experience with the injuries that Ukrainian doctors are dealing with now. He could imagine the injuries, he could see them in pictures, and here there are living patients alive he can work with. I am interested in your opinion, the opinion of your colleagues in this regard. What areas, what Ukrainian experience at international conferences will be important, will be needed? Are your colleagues ready to invite Ukrainian doctors, journalists to be speakers at such conferences? By the way, Lviv is now very interested in the field of 3D modeling and the preservation of architectural monuments. This is done, for example, by the company Skeiron. They do 3D laser scanning of Ukrainian monuments (churches, houses, etc.), record everything. If, God forbid, a rocket were to fall and destroy everything, digitized models of the monuments would remain in Lviv, so that it will be possible to rebuild everything. We had a lot of calls asking about this experience, inviting us to explain how Ukraine is handling this. What is your view?
It's a bloody experience, it's tragic, but we have it. After eight years of confrontation in the east of Ukraine and during a full-scale war, we have two types of experience. The first is military experience. I know that our military men were invited to NATO conferences to speak on the peculiarities of modern warfare.
Second, I would say that the experience of Ukrainian maxillofacial surgeons – I am talking about my field, about my direction in the treatment of damaged areas – is now material for analysis in the future. For example, what my colleague, my student, Medical Colonel Ihor Fedirko, does at the Central Hospital, and the complexity of the injuries that are being inflicted, fascinates specialists. We have created an international online group where we exchange experiences. We see the reaction of this group to the problematic operations we're sharing. 
They (the International Association of Oral and Maxillofacial Surgeons, the European Association) observe with great excitement how our specialists dealt with different situations.  When we reported with Simous Gribauskas on organized supply chains, and mutual cooperation among maxillofacial branches throughout Ukraine, we were invited to a conference to share the experience of this kind of coordination.
The second reaction is the desire of volunteer surgeons, volunteers to come to Ukraine. The European Association sent a letter. I have sent this information to the medical service of the Ministry of Defense of Ukraine, the Ministry of Health of Ukraine, to the main specialists, put it on the website. It shows a desire not only to help, but also a desire to learn. War, despite the tragedy, despite its bloody nature, teaches specialists how to be prepared for these situations. These are the kinds of conferences we should be organizing. I don't think we should run from Lviv. I'm totally against it. I can't imagine when a refugee from Lviv stands on the border and a refugee's car from Mariupol is nearby. I can't imagine that. Nothing is comparable.
Lviv continues to be a place where this kind of conference can be held. I think we should organize these conferences to exchange experiences. If Simous Gribauskas, a member of the Royal Chemical Society, if the International Association of Oral and Maxillofacial Surgeons are helping us, are interested, then why not invite them to join us (at the conference). This should not be a large-scale conference, but professional, very targeted. Obviously, if someone wanted to come, then they could join it online. But the discussion group should be assembled live, either at the hospital, or at the emergency hospital. We are now working with hospitals and emergency hospitals. We have set up two operating theaters now and rebuilt them to handle combined injuries. There are no injuries just to the arms or legs, head or neck right now. Where there is a bulletproof vest, a helmet, there are fewer injuries. But the arms, legs, and maxillofacial area remain open. These are very serious injuries, especially when found together. I am in favor of initiating further conferences. But their format should be appropriate.  Also, the task should be repurposed for a practical exchange of experience, on how to help. 
As an analyst, I started by calling all the maxillofacial surgeons. I asked each of them if they had everything they needed. A month later, we received a call back: 'Myron, thank you. At the moment, we have everything we need.' Now we can figure out what's badly needed. There are certain stages of saturation: panic, when there is nothing, then when something is brought and, later, understanding what is most necessary.
So such meetings could help Western specialists, managers and companies to understand what is most needed. When they say that everything is needed, I ask what they mean by everything. When the surgeon operates for 11-12 hours near the casualty's chair, and then you ask him to write what he needs, he wants to sleep. And we have to understand that too, to give ourselves a chance to sleep. Already then wait for the list of necessities. I've got this rule for myself. I've told these colleagues I'd try to provide them with all the surgical instruments they need. The surgeon should have everything on hand. There is a situation, he should hike back, get a surgical instrument, and not think about where to get it during the operation. Then you need to analyze, see what you need most. Treating injuries is not only about saving lives, but also about life after surgery. The face also has a social function. A wound to a leg or an arm, however terrible, looks lighter than a wound to the maxillofacial area. After an injury to the face, after performing the operation, a patient needs to look good, be able to eat, smile and feel human.
These conferences could just show an example of how to organize the evacuation of the wounded in a timely manner. Today there are problems with planes and helicopters. They're hit, there are not enough planes and helicopters. Evacuation of the wounded takes more time now. This kind of conference should be held in such a way that doctors who are working are not taken away from their patients. We should organize full-day conferences. Doctors would have to come, work at the conference, and go.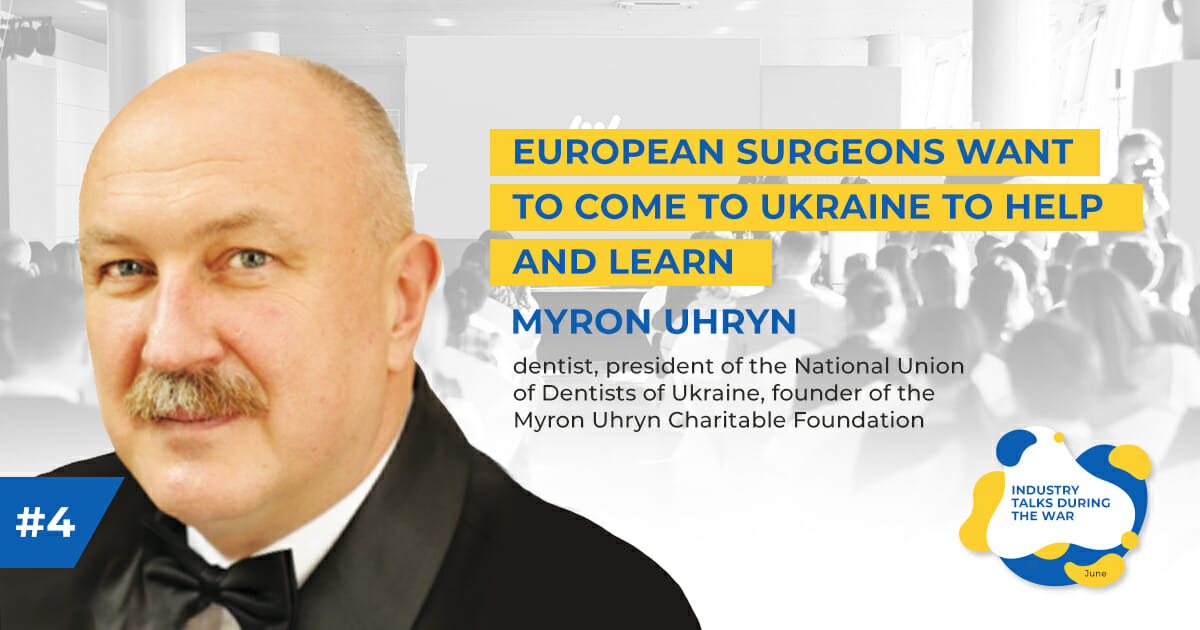 As a rule, conferences are two or three days. In this case, it should be different, because all hospitals now function as barracks. At the beginning of the war, we even sent clothes to our doctors in Kyiv because with the invasion, everything was closed down, there were no supplies. It turned out that doctors needed not only medical instruments, but they also need clothes, a change of shoes.
Your dental exhibition "Dental Ukraine" every year in Lviv attacts a huge number of participants, more than 3,000 people.  It is now clear that the war will not end so quickly. Exhibition activities will be carried over from month to month. How do you feel about this? What are the feelings of those partners who always come to visit you, who participate in your exhibition? Do they plan to return to the exhibition? How does your organizing team assess the situation? Will the exhibition change the format, or will it be postponed to the next year? What do you think about it?
I've worked with the exhibition company GalExpo all my life. It was our idea to hold the first exhibition – "GalMed" – and then Dental Ukraine. Exhibitions should be organized. In this situation, exhibitions have to take other forms. The company GalExpo should think about how to reformat. Maybe it is possible to do it online, where companies would still have the opportunity to exhibit their products. Exhibitions are not only about selling, they're not only about boasting – they're also about meetings, conferences, exchanging experiences, presenting new technologies that are needed. Lviv, like the Galician Crossroads, should be a center for exhibitions. Not Kyiv, but Lviv. I advise GalExpo to hold the exhibition online, because each company can present its stand online, and then – to enable live discussions. We now have many companies that remained in Ukraine that have moved from the east of Ukraine to Lviv.
It would be good to give them a platform so they can show off their products. Such an exhibition would also be one-day long, without chic buildings. Companies have to exhibit. There are many companies that have stopped working with Russia. We need to give them an opportunity to show off what they have.
Now Ukraine participates in many exhibitions. We're using, in the good sense of the word, the attention that Ukraine has attracted. What messages do you think we should convey to our partners at these exhibitions? Of course, there is news about the facts: the murders, violence and brutality of the Russian army. Everyone sees the photos, the videos, and understands what's going on. But we must not only talk about the facts, but also present Ukrainian narratives, our vision. How can we re-discover Ukraine? What should we communicate? What are Ukraine's strengths? What do international partners need to see in order to learn more about Ukraine? What positive accents should be made?
I always said that if you want to hate Ukrainian songs, you need take train No. 91 (train Kyiv – Lviv), where there was always pathetic Ukrainian music playing about how unhappy and destitute we are. It's not like that, though.  We are not unhappy and destitute. Look at the enemy we are confronting, what has already happened. We need to move away from these narratives of impoverishment. Even in the negotiations with foreign partners. I am a little annoyed by our position, which is indignation that we have not been given something. There are rules.
I belong to the Rotary community. There, to support your grant, you need to invest as well, show that at least 10% of the investment came from you. You yourself need to invest. And we've already done a lot. We have done a lot in science, in warfare, in approaches to patient rehabilitation, in computer technology. It's not just about the money. Because it may be like the situation in Polish universities. Before joining the EU, the rector of one of the universities, my colleague,  always called and said that they did not have enough money to buy something. 
Likewise, we like to complain that we have no money. After joining the EU, he called and said he had received a million euros, and now he doesn't know what to buy. We have to be prepared for that money. What if they give us the money and then it turns out we don't know what we need? We have to show not only that we need money, that we are poor – in fact, we are rich. We need to show how we can surprise the world. And we can surprise a lot. Unfortunately, we did not pay attention to our achievements in state policy. Even universities do not boast about the achievements of their graduates from abroad. Professors do not boast of their achievements, but only count their theses. We need to talk more about those people who have really achieved something, in which you can invest, and show our achievements more often, rather than statistical reports.
Eight years of war. The fourth month. Every day we see scary footage. You work with people, with the military men. You listen to them. How do you find the energy to move on? Sometimes it can be very difficult emotionally and physically. We lose persons close to us. We don't realize until the end how it will affect us psychologically in a few years, months.  We are still in the middle of the action. But we must look for the energy that will keep us afloat, to resist aggression so that we can be victorious. That comprehensive conscious victory, the victory of Ukrainians over all internal problems. And, of course, the victory over the enemy. Where do you get the energy? Where do you take strength? How do you stay afloat?
This probably sounds trivial, but without faith it is impossible either to create nor to live. I will answer what keeps me going, in the words of my grandson. When he was running through the swamps, my wife told him that he would get dirty. She also asked him why he was doing that. And he went back to my wife and said he just wanted to. And we also have to keep the desire to live better. How can you explain why you've been volunteering for eight years! When you start to explain, you get the impression that you're making excuses. 
Of course, it is possible to talk about patriotism, duty, but above all – it is faith. The second is the desire to improve the world. I think that's absolutely enough. Look. If I didn't want to do it, I wouldn't be standing near the map, counting the instruments all day long. Someone doesn't want to do it, and he doesn't. We still have democracy. There is also a sense of responsibility. And they have to understand that as well. There is no individual medical license in Ukraine. Throughout the world, through the granting of a license, the doctor has many rights. At the same time, he has a lot of individual responsibility. I am in favor of Ukrainians having many rights, many opportunities to realize themselves, but always remembering their responsibility to the country, to the family.