Right now Ukraine is gaining a special war-experience. Of course, it is a bloody experience. No one wishes to have it in normal life. But after the 24th of February, after russia started the invasion, we have to handle all challenges, to be brave to face them and do our best to survive and save our lives. 
In spite of all violence we are getting over and horrifying stories, we are having very special stories about people whose professionalism and dedication to work, desire to help day after day make a miracle. It is not one or two or even 100 special people. It is a #hugeclusterofUAprofessionals in medicine, military, journalism, business, IT, architecture, humanitarian  spheres who became heroes. who did their best to save the country.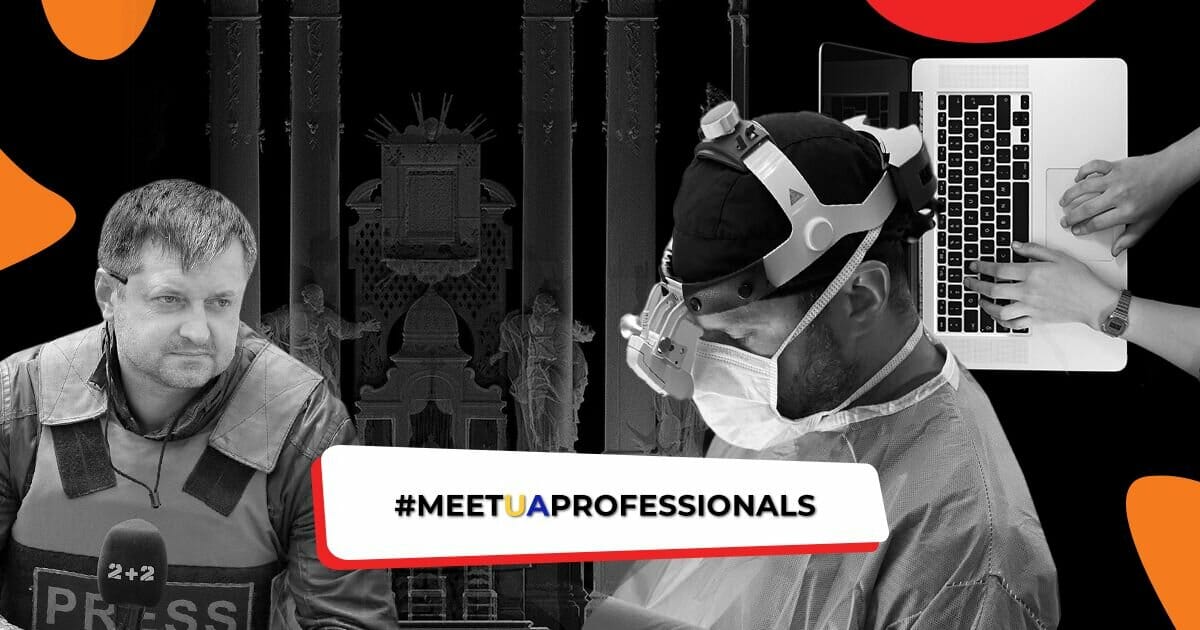 These are #UAprofessors at universities, #UAdoctors at hospitals, local #UAjournalists, #UAitcompanies, #UA3dscanning companies,  young #UAvolunteers etc. Right now they have huge war experience that no one else had before. Together with their international partners they show all practical situations, they explain how they did those fantastic things. 
Lviv Convention Bureau just wants you to get acquainted with these people, companies. We want to show you how great their job is. Because we are sure they can be good speakers at your conferences, they can be nice partners to organize events in Lviv. More important is that together we can help more. Because meetings create connections, meetings can change the world. 
Keep in touch with our stories. We are going to show you #Ukrainianexperts
Firstly. let us introduce SKEIRON. This is a Lviv company, a team of people who have been concerned about the fate of Ukraine's cultural heritage for many years. They try to engrave as much of Ukraine's architectural and artistic heritage as possible and preserve historical memory from the destructive influences of the time and crazy russian missiles.
Before the war these men had been working on Pocket City AR – a great project that popularized city architecture through souvenir AR products. They created ЗD postcards with the most famous monuments, castles, buildings in the biggest cities in Ukraine. Skeiron also digitized Ukrainian museums. Team created a big platform where you can take a virtual trip to museums: "walk" on a 3D tour, look at three-dimensional models of exhibit
When war broke out they organized a project   – SaveUkrainianHeritage. The project's aim is 3D scanning of cultural monuments throughout Ukraine, where circumstances allow. Skeiron has already created a lot of 3D copies of different objects that will be the basis for restoring the monument in case of its destruction. Team united the efforts of all those who can contribute to the scan – professionals in this field, conservationists, and appreciators. 
Skeiron has already worked with Ukrainian architects and international organizations. For example, they cooperate with the National Institute of Polish Cultural Heritage Abroad "Polonica". Together they have plans to organize round tables in Lviv to attract more attention to save the cultural heritage of Ukraine.
We also want you to meet MYRON UHRYN. He is a dentist, president of the National Union of Dentists of Ukraine, founder Charitable Foundation and real #UAprofessional.
Myron Uhryn organizes one of the biggest dental exhibitions and medical forums in Ukraine that is called "Dental Ukraine". He is very famous among his dental colleagues, takes part in the biggest congresses in his field and is a member of the European Association for Osseointegration.
Apart from his professional life, he is one of the most famous volunteers in Ukraine. Together with his medical friends he saved so many lives. After war broke out in 2014 he created mobile dental offices, a network of volunteer dentists. These offices were full of brand new dental equipment that help soldiers. Now soldiers thanked Myron Uhryn and sent him photos of how they brushed their teeth. 🙂
Myron Uhryn is also well specialized in maxillofacial surgery. Since the beginning of the war he operated so many guys. From day till night without break he came to the frontline and did his work. It was super complicated surgery, but he did it so well. 
Today Myron Uhryn goes on taking part in conferences. He participates in world congresses and forums, talks about unique experiences of Ukrainian maxillofacial surgeons. He could not organize his annual dental exhibition in Lviv for 3000 participants due to security issues. But all participants asked him to postpone the event and not to cancel.  
Right now he is planning a small conference to share the experience of Ukrainian doctors during the war in Lviv with the opportunity to join online. 
The third video is abour project "UNBROKEN".
Today in Lviv we have a dream. We want all Ukrainian injured children, their parents, and brave #UAsoldiers to go on living. For the last 6 month Lviv has been turning into a humanitarian hub, a place where people flee the war and get medical support. 
Evacuation trains arrive in our city on a daily basis. In city hospitals, there are more than a thousand seriously injured Ukrainians – children, women, elderly people. With severed limbs, burns, projectile wounds.
Our #UAdoctors work 27/7 and do their best to save their lives and bring them back to normal. But they understand that after the treatment a large number of Ukrainians will need rehabilitation. Therefore Lviv is launching a project to construct the «Unbroken» National Rehabilitation Center. The goal is to help Ukrainians remain #UNBROKEN and get all the necessary help here, in their own country, near their families.
LCB wants you to get acquainted with this idea and ask to help find medical associations who can be interested in the project. 
#UNBROKEN has no alternatives in Ukraine. It aims to change the rehabilitation system in Ukraine: treatment, prosthetics, physical and psychological rehabilitation, housing, sports activities and work. This is an ecosystem of care and support for people affected by the war.
Overall estimated budget for the Centre is 77 mln EUR. There is also a need to engage highly qualified specialists, companies that could deliver products (prosthetics, medical equipment and other goods).  Local and central government capacities are limited now, thus Ukraine and the city of Lviv need to unite the efforts of business, NGOs, cities, international institutions and donors on the idea to create #UNBROKEN jointly.
Right now there are a lot of #UNBROKENAmbassadors who help our dream come true. They donated money, spread the information and this gave hope for many Ukrainians to live again. 
4th video is about Lviv IT Cluster – community of IT companies, authorities, and educational institutions that work on the development of the IT sphere in Lviv. 
Our beautiful city Lviv is very famous for its active IT industry. There are more than 200 IT companies and 30K+IT employees united in Lviv IT Cluster. Its CEO is Lviv Honorary Ambassador Stepan Veselovskyy that works hard to unite and develop the IT industry in Lviv. 
Lviv IT Cluster is the initiator of many important projects for Lviv and the IT sphere in Ukraine. The famous project is IT Arena. It is one of the biggest tech events in Ukraine and Eastern Europe annually hosted in Lviv. Every year the conference brings together over 5000 tech professionals, designers, business analysts, executives, and startuppers for discussions of the latest tech trends and quality networking. 
During the war Lviv IT Cluster worked hard to support Ukraine's Armed Forces and civilians who suffered from russian aggression. There was a great project called "SKY". It aims at technical modernization of the command and reporting centers of the Air Command West. Modernization includes a complete replacement of existing computer equipment, network equipment, and screens for navigation display systems. It is planned to also modernize the Air Command's operations centers as part of the second stage of the project.
Apart from this Lviv IT Cluster together with the Lviv City Council and the First Medical Association of Lviv launched an initiative to establish a Mental Health Center. As part of the Center's work, war veterans, internally displaced people and anyone who needs support in such a difficult time will be able to receive the help of professional psychotherapists, psychiatrists and psychologists.
5th video is about Lviv Media Forum – an ecosystem of people, organizations, and projects that develops comprehensive media solutions and promotes the best global practices.
Lviv since the beggining of war became a hub for media from all over the world. More than 2000 journalists from 50 countries, and from 5 continents have already visited the Lviv International Media Center. The largest number of journalists was from France, USA, Italy, Great Britain, Poland, and, of course, Ukraine.
Lviv journalist community became a rescue team that helped colleagues from other regions to relocate editorial offices to Lviv, find new homes to live, and places to work.
We want you to get acquainted with NGO "LVIV MEDIA FORUM " –  an ecosystem of people, organizations, and projects that develops comprehensive media solutions and promotes the best global practices. During the war – it was one of the biggest journalist communities. These people systematically fight with russian propaganda telling the truth and at the same time helping their colleagues to gain new skills in tactical medicine, documentation of war crimes etc.
Before the war, the NGO organized the Lviv Media Forum  – the biggest annual media festival in Central and Eastern Europe. More than 100+ professionals from all over the world share their experience and knowledge on how to overcome professional challenges, develop yourself and your projects. Forum every year gathers in Lviv more than 2000 people, who could take part in different professional activities. 
Since the start of the full-scale invasion, the Organization has worked hard to fight with russian propaganda. Team launched the project "Ukrainian network for combating disinformation". In 6 months, 10 Ukrainian regional editorial offices developed and published 240 materials. Their total reach is over 10,000,000.
The NGO also organized a photo exhibition "Dare to Witness" that showed the stories of media workers who documented the war, helped the world learn the truth, recorded and talked about russia's crime. 
Since the war started NGO has received hundreds of requests for help and support. Foreigners wanted to get professional advice or to find a Ukrainian producer for their stories. So they created Nibly — an application for the global media community. 
Also they organized different training for journalists on risk management,  basics of stress management,  triggers and practices for grounding, on  how to protect personal data, crisis communications, etc. And of course they pay attention to courses that concern tactical medicine for journalists.
#6 video is about youth network "TVORY" that unites young people in Lviv. 
Instead of learning new things, exploring the world, making friends and having fun, young people in Lviv and all over Ukraine fight for their future with russians. 
A lot of them lost their families, friends, homes, moved to other cities, became volunteers, doctors and soldiers. Many of them lost opportunities to study and work. They experienced too much, but did not give up. 
Let us tell you a little bit about our good friends from TVORY. 
This is a network of youth spaces in Lviv that unites young people and helps them go through all war challenges. Our story is not about buildings for youth, but about a real young community who helps its country during dark times. 
TVORY consists of 3 spaces: 
Molodzivh Center – coworking for young people that also is a place for different training and seminars. 
Lviv Open Lab  – a space of innovative education with scientific laboratories, coworking and lectures.
Pixlab – hub for creating design and media. 
All these locations created a community of young people with different interests but the same values. Community that helps Ukraine Armed Forces, works at humanitarian storages, organizes educational, motivational festivals and forums. 
At weekends they gathered together to weave camouflage nets for military equipment, record podcasts with psychologists about how to survive the horrors of war and learn how to provide first aid. They organized meeting where talked with specialists about war crimes, volunteer work, mental health, psychological operations, post traumatic stress disorder, opportunities after the war, human trafficking, Ukraine's path to the EU, reconstruction plan, media literacy etc.
At the same time they organized a youth forum for 3000 participants with 30 activities, 24 speakers, and prepared an application for the contest for the European Volunteer Capital 2024. 
Moreover, TVORY applied for European Youth Capital and won this title for 2025. Lviv plans to use the title to boost volunteering, skills development and employability among its young citizens.